Everything Voters Need to Know About Lizard Election 2016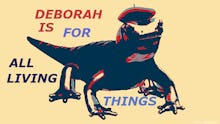 Tumblr
After months of contentious debates, attack ads, campaign rallies and gaffes, voters head to the polls Friday to decide which lizard will become the next President of the United Lizards. 
Rick, the most experienced of the four candidates, has been leading the polls for months — but outsider Wretched Tooth is calling for a total political revolution. 
Who are the candidates? 
Rick
Rick is arguably the most qualified of the candidates, as he has the most lizard-governing experience. While some think Rick's just a lizard pleaser who enjoys "hoity toity parties," the candidate is receiving widespread support from voters on social media who are saying he is "life" and turning his campaign slogan #RickForAll into a viral hashtag. 
Deborah
Deborah is a business mogul and political outsider who "seeks a two-way dialogue" and "wants to connect on social media." Deborah hasn't picked up much traction in the race, but a Deborah supporter created this snazzy and overpriced $59 "Vote 4 Deborah" T-shirt anyway. 
Wretched Tooth
The lizard candidate hailing from the North, Wretched Tooth resembles a goat but is a way fiercer candidate than any goat would be, taking the election from "0 to 100," as the media has put it, calling for a "total political revolution." He's earned the support of millennials across the nation who believe it's time for real change. 
Mop
Mop's supporters call him "relatable and reliable," but many say he's lackluster and monotone. Mop is best known for his campaign slogans, "Mop could!" and "So many great places to start." Mop is currently dominating in the polls.
Who's winning?
With 11 hours left at the polls, Mop currently holds a commanding lead with 4.15 million votes. Wretched Tooth is hot on his tail with 3.77 million. Campaigns are raging across Tumblr, so this decision is still anyone's game.