Amy Schumer Spoils 'Game of Thrones', Gives Her Fame 6 More Months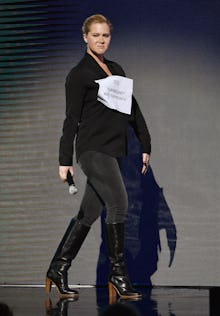 Amy Schumer spoke at Comedy Central's upfront this past Thursday in New York City to promote the upcoming fourth season of her hit show, Inside Amy Schumer. During her presentation, Schumer gave a sensible prediction about the sustainability of her newfound fame and ubiquity. "Do you guys know that I'm really famous now? I think it's gonna last another six months," Schumer quipped. "I've got behavioral issues."
Read more: Amy Schumer's Book 'The Girl with the Lower Back Tattoo' Release Date Announced
2015 was a big year for Schumer. The third season of Inside Amy Schumer became a weekly water-cooler subject, with skits like "Milk Milk Lemonade" and "12 Angry Men" – an episode-long parody of the film and play, with a feminist twist on Schumer's "fuckability." The latter episode was lauded by critics and received a nomination for outstanding directing for a variety series at the 2015 Emmy Awards. Additionally, the show received nominations for outstanding writing for a variety series and outstanding lead actress in a comedy series for Schumer, and would go on to win for the new Emmy category for outstanding variety sketch series.
Elsewhere, after the box-office and critical success of Trainwreck, Schumer rode the wave into her first HBO standup special, Amy Schumer: Live at the Apollo. Finally, Schumer signed a multimillion-dollar book deal with Simon and Schuster, to be released later this year.
Watch the new teaser for Season 4 of Inside Amy Schumer, which sees Schumer decked out in Game of Throne apparel to announce that "Schwinter is Coming."