Pornhub's April Fools' Day Prank Is Totally NSFW if Veggies Give You Boners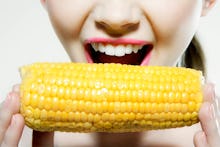 If you haven't already had your morning visit to Pornhub.com today, you'll get a mouthful of something hot, wet and husky — straight out of the Midwest. You guessed it! We're talking about corn. 
Pornhub has rebranded itself as Cornhub. This April Fools' Day, a bunch of horndogs at their laptops aren't going to see their "free porn sex videos & pussy movies" when clicking on "taxes" in their bookmarks. Instead they will be greeted with rather soothing images of buttery corn.
Pornhub VP Corey Price told Mic in an email that the rebrand was inspired by a viral photo on reddit. This photo, to be exact:
"Most Viewed Corn Videos" include the classics like "a-maize-ing hardcore action," "Full cobs totally peeled," "Hot steamy hardcore corn" and "Watch as he butters it up."
There's even a section recommended for me! "Big bushel gets destroyed," "Huge group of kernels takes buttery load" and "Hot interracial shuck" are just a few suggestions ruining my next family barbecue. 
"We've gotten a few angry emails from people that didn't seem to get the joke but by for the most part, people are finding this pretty shucking funny," Price said. 
For those of you whose spank bank isn't brimming with starchy snacks, don't fret: Once you click on literally anything on the Cornhub site, it is forever returned to a page full of dicks.