After Commissioning Photos of Her Dead Toddler, a Mother Was Charged With Her Murder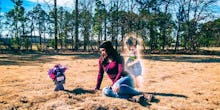 When Pennsylvania photographer Sunny Jo got a message on Facebook from a woman mourning the death of her 2-year-old daughter and requesting his services, he was was so moved by her story he did $500 worth of photo editing for free.
According to the Fayetteville Observer, North Carolina resident Jeanie Ditty asked Jo to take memento photographs for her, Photoshopping her daughter — who had died three days earlier— into the shots as an "angel" to help her grieve.   
Of course what Jo couldn't know at the time was that he was inadvertently collaborating in a twisted coverup. 
Last week, Ditty, 23, and boyfriend Zachary Earl Keefer, 32, were charged with first-degree murder and negligent child abuse inflicting serious bodily injury in the case of their daughter, Macy.
According to the Observer, in December, Ditty called Keefer a paramedic, when she said Macy wasn't feeling well. The couple told authorities that after Keefer arrived, they found Macy choking on her vomit and called 911.
Read more: This Amazing Anti-Child Abuse Ad Is Only Visible to Children
When Macy was brought to the hospital, officers found bruises covering the toddler's body and, according to court documents obtained by the Observer, two days later Macy died as a result of the injuries. 
In light of the couple's arrest, Jo now realizes the photos were part of an elaborate scheme. "I called the detective in charge of the situation, and I find out that she wanted these photos just to lie to the public, to cover up what she did so she can look like the grieving mother," Jo told the Observer.
In an interview with the Washington Post, the photographer said he's gotten a slew of negative Facebook comments, criticizing him for taking the photos. 
"People have been telling me I made a mockery of a child's death," he said. "People are snapping, 'How can you do this?' But I didn't know."