Let's Stop Judging Women Like Wendi Deng and Start Worshipping Them Instead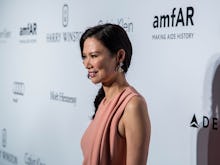 In the musical Evita, there's a number called "Good Night and Thank You," in which the titular heroine Eva Duarte, a rapacious, marginally talented young woman, desperate to escape her impoverished neighborhood, goes through a series of male lovers, each one more powerful than the last.  "Oh but it's sad when a love affair dies/But we have pretended enough," she sings with ersatz sadness as she pushes her befuddled lovers out the door. 
Of course, we all know what happens to Eva: Thanks to her powers of seduction and her behind-the-scenes machinations, she snags General Juan Peron, amassing an enormous following and pulling the strings behind the scenes before succumbing to ovarian cancer at the age of 33. Hers is a story of naked ambition, of a woman using a combination of political savvy and feminine wiles to ascend far beyond her station, resulting in millions of people venerating her and even calling for her canonization. 
It's an age-old narrative, but it's also the real-life story of Wendi Deng, the impoverished Chinese girl turned powerful businesswoman and socialite who made headlines this week for reportedly dating Vladimir Putin, adding yet another incredibly wealthy, powerful white male to her stable of former lovers. 
The former wife of Australian media magnate Rupert Murdoch, Deng has a reputation as professional arm candy to wealthy white men. A catalogue of her alleged conquests reads like an attendees list at Davos (or the top tier of Trump campaign donors), featuring such notable names as Google's executive chairman Eric Schmidt, former prime minister Tony Blair, former MySpace CEO Chris DeWolfe and, as of this week, Russian president Vladimir Putin. 
After rumors of Deng canoodling — the term of art for "fucking" in entertainment journalism parlance — with Putin surfaced, the finger-wagging commenced almost immediately, with people on Twitter referring to Deng as a whore, a witch, a social climber and a gold digger. 
Following Deng's acrimonious divorce from Murdoch, a lurid 2014 profile in Vanity Fair brought to further light Deng's sexual history, as well as how she has managed to bed such fabulously successful men in rapid succession. 
The piece by Mark Seal paints a portrait of a man-eating, almost comically ruthless young woman willing to do anything to escape her dismal circumstances. She made her way to America by seducing an American businessman (her first husband Jake Cherry, who left his wife for Deng) and subsequently ditched him when someone wealthier and more powerful came along. 
To serve the traditional (and frankly, more than a little misogynistic) narrative that women need rely on little more than spreading their legs to get ahead in life, Seal's piece paints Deng's rapid escalation up the career ladder as little more than a consequence of her sexual appeal. In one particularly squirm-inducing anecdote, he quotes a colleague witnessing her playing with a senior colleague's ponytail to get his attention. 
Upon reading the piece, it's hard not to think of Deng as anything other than a professional trophy wife (or, at the very least, someone with a serious type). Yet there's far more to her than her feminine wiles or her hunger for rich white men's money. For starters, Seal's piece glosses over her numerous other accomplishments, such as the fact that she essentially turned an internship that she snagged while at Yale Business School into a vice president position at Murdoch's company. 
Is Deng a gold digger? Is she a whore? (Quite an ironic designation, given Putin's allegedly equally voracious sexual appetite.) Or is she a woman who, like Evita before her, quickly learned how to negotiate her way around a man's world in order to escape her circumstances and get what she feels is her due?
To accuse someone like Wendi Deng of being any more or less corrupt than Murdoch or Vladimir Putin, of all people, is a manifestation of an insidious double standard that punishes women for aggressively pursuing their desires, while giving a free pass to the men who "succumb" to their charms. After all, no one put a gun to Murdoch's or Cherry's or Eric Schmidt's heads and told them to leave their wives for Wendi Deng. So why are these titans of industry portrayed as weak, feeble-minded infants who can't help but succumb to Deng's charms?  
Yes, Wendi Deng has a "type," and that type happens to be incredibly wealthy, incredibly powerful older white men. But that doesn't make her a trophy wife. If anything, it makes men like Murdoch and Putin her trophies. 
In "Goodnight and Thank You," the men whom Eva Peron beds lament the havoc that she has wrought over their lives. "This is a club I should never have joined/Someone has made us look fools," they sing. "Argentine men call the sexual shots/Someone has altered the rules." That is exactly what Deng has done. Like Evita, we should be worshipping her for it, not punishing her.