Utah Declares Online Porn a "Public Health Crisis" — But It's Got Much Bigger Problems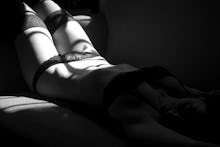 Earlier this year, Utah lawmaker Sen. Todd Weiler introduced a bill declaring pornography a "public health crisis." The state legislature agreed, and on Tuesday, Gov. Gary Herbert is expected to sign that bill into law. 
While the measure does not ban pornography in Utah, it calls for the state to adopt increased "education, prevention, research and policy change at the community and societal level," to fight the scourge of online porn. While it's unclear what, exactly, such education will entail, the bill links porn consumption to a host of other social and emotional issues, including low self-esteem and increased sexual activity among teens. 
More pressingly, as Weiler has claimed, viewing porn can be as addictive as hard drugs. Thus, it should be treated as a health hazard — the kind that prompts the state to endorse "education, prevention, research and policy change at the community and societal level" to combat the "pornography epidemic" that is "harming" the people of Utah.
But how harmful is watching porn, exactly? Sex and psychology researchers are inclined to say not very. 
As researcher Nicole Prause said in a previous interview with Mic, watching porn "has been repeatedly linked to higher sexual drive and greater desire for one's current sexual partner." Additionally, the number one activity associated with porn viewing — masturbation — has been shown to have positive health effects as well, including stress relief and alleviating menstrual cramps for women. 
The bigger issue with Utah's outlook on porn, however, is not simply that it condemns an activity the vast majority of Americans clearly enjoy — especially in Utah, one of the nation's leaders in porn consumption. The measure also fails to recognize one of the most crucial, yet perhaps most troubling, reasons why young people watch porn: because they're trying to learn about sex. 
Of course, pornography is not a legitimate substitute for sex education; even those in the industry are quick to point out that it's hardly a realistic instruction manual for how to have sex. Yet for young people, it's one of the main ways of learning about sex — especially if they live in a state like Utah, which has repeatedly rejected comprehensive sex education for students and prohibits teaching students about contraception. 
Unfortunately, it doesn't look like Utah teens are going to have access to comprehensive information about sex anytime soon. In the same legislative session that declared porn an epidemic, the Utah House Education Committee adjourned before deciding on a measure intended to prohibit students from receiving sexual abuse prevention training unless they first receive parental consent to attend. 
With Weiler's anti-porn measure, Utah has blamed adult entertainment for social issues like high rates of sexual activity among teens. Yet it's clear that young people are having sex anyway. It's also clear they're not doing it safely: Last year, the state's gonorrhea infection rate went up more than 700% for women and nearly 300% for men, and in 2014, two-thirds of Utah's chlamydia cases were among 15- to 24-year-olds. And yet, it's porn that Utah identifies as an "epidemic" — not its sky-high STI rates. 
It sounds as if there is, indeed, some sort of crisis happening in the state. But it's not internet smut that's the issue — it's Utah's generally backwards attitude toward sex education itself. 
Correction: April 19, 2016