Tia Mowry Just Went Postal on a Body-Shamer Who Called Her Fat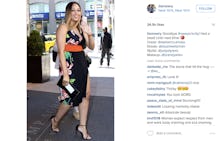 The person who body-shamed former Sister, Sister star Tia Mowry probably wants to crawl under a rock right now. 
Not only did the user — who left the comment "getting fat" on the picture below Thursday — get the ultimate clap back from Mowry, but it's turning into a national story, too. Whoopsy. 
Mowry posted a screenshot of the comment (the associated account has since been deleted), accompanied by a lengthy and impassioned explanation of why she took such issue with the comment. 
"I don't normally do this, but I wanted to prove a point," Mowry began.
"Internet BULLYING is not cool and it needs to stop. Would you say this to my face? Is this how you speak to yourself when YOU look at yourself in the mirror. Again, I'm shining a light on this issue hoping to see change. Love and uplift!" she added.
But it didn't stop there. Mowry tagged the organization she thought the user worked for, HBCU Travelers, which promotes travel for young, black students. 
"Here, @miekk_ felt the need to say I was getting fat," Mowry wrote. "I took a look at your profile and I was sad to see that you WORK for YOUNG African American girls aiding in their studies. I hope this isn't what you would tell your girls? Does your BOSS know that this is how you degrade other WOMAN? @hbcutravelers."
HBCU Travelers immediately distanced themselves from @miekk_, responding to Mowry's post with an uplifting India Arie quote superimposed over a young, black woman and a comment. 
"To @tiamowry: the young lady you mentioned does not work for our organization, but was a supporter of our mission, which can be viewed on our website," the company wrote via their official Instagram account. "You are beautiful inside and out, and it saddens me that she made the negative remark."
So, trolls, beware. Maybe think twice before body-shaming online. If being a bad person isn't enough of a deterrent, just remember you might be the next one to get embroiled in a national story.