Tesla Model 3: Photos, Price and More for the Latest Electric Car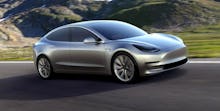 On Thursday, Tesla introduced its newest and cheapest electric car to date, the Model 3, at an event in Hawthorne, California. The Model 3, which seats 5, will start at $35,000, according to the company, and will be able to drive 215 miles per charge and go from 0 to 60 mph in "under 6 seconds."
Read: The Police Chase of the Future Is Virtual — And It Could Save Thousands of Lives
Tesla CEO Elon Musk announced the Model 3 and told the crowd that his goal was to be producing 500,000 cars a year, reports the BBC. The first deliveries of the Model 3 will reportedly begin in late 2017, but the electric car is already available for preorder in several countries. So far, Musk announced at the event, Tesla has already received 115,000 preorders for the Model 3.
The Model 3 will also include the capacity to "supercharge," or charge faster, at special charging stations.
Like the Model S, the Model 3 will be able to charge and supercharge at the 3,750 regular Tesla charging stations and 3,750 supercharging stations worldwide, Musk said. The Model 3 will also feature "autopilot safety features" that will, according to the BBC, "allow the cars to steer themselves and avoid collisions."
When Musk unveiled the Model 3 to an ecstatic crowd on Thursday, he was met with applause and shouts of "You did it!" It remains to be seen, however, whether or not the Model 3 is the accessible electric car it promises to be.