Ariana Grande Just Spoke Out Against Male Artists Who Use Sexist Lyrics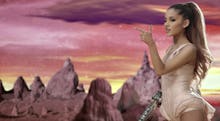 Ariana Grande is sick of the music industry's double standards.
In an interview with the Daily Mirror, the 22-year-old artist called out male rappers for using sexist language in their songs. Men, she said, get little flak for using derogatory terms, while critics rail against female artists for singing about their exes.
"When men talk about women in songs it's like, 'Oh, hell yeah, hos and bitches,'" she told the Mirror. "And if a girl makes a song about a break up then it's like 'Wow, I can't believe she did that', or 'What a slut.'"
Read more: These 13 Empowering Lyrics Are Pushing Back Against Hip Hop's Misogyny
Grande has been known to shut down sexist tropes before. In November, the singer posted a short essay on Twitter calling out slut shaming and in the same month she schooled three Los Angeles DJs when they asked her a slew of ridiculous questions (think: "makeup or cellphones?") during a live interview. And in another interview last month, she stood in solidarity with Kesha, saying Dr. Luke's alleged assault of the singer is indicative of a larger problem in the industry.
"Whether it's the music industry or real-life we need to break the standard and it needs to go away soon," Grande told the Mirror.
These days there is a deluge of female pop artists like Taylor Swift, Nicki Minaj and Beyoncé going to the mat for feminism, but until tunes change, Grande insists the more voices, the better.
"I love seeing women be more vocal about these things because it is the only thing that will make a change — being really honest and speaking up."