EU's Refugee Deal Could Be Devastating, Amnesty International and UN Say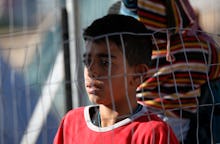 The press release was damning.
"Large-scale forced returns of refugees from Turkey to war-ravaged Syria expose the fatal flaws in a refugee deal signed between Turkey and the European Union earlier this month," Amnesty International wrote in a statement released Friday. The organization estimates around 100 Syrians per day have been returned to Syria since the middle of January, which, it says, would be a violation of international law. 
This refugee deal between Turkey and the European Union could start as soon as Monday, giving added urgency to Amnesty's concerns.
Read more: What EU Leaders Did to Refugees Is Worse Than What Trump Said About Them
Under the terms of the deal, the EU has agreed to accept a certain number of Syrian migrants currently seeking asylum in Turkey — but, in exchange, the EU will send new migrants and refugees back to Turkey. 
Compounding concerns, the U.N. Refugee Agency also released a statement Friday urging Turkey and the EU not to proceed with the deal until it can be determined those refugees and migrants being sent to Turkey would not be susceptible to human rights violations. 
"Far from pressuring Turkey to improve the protection it offers Syrian refugees, the EU is in fact incentivizing the opposite."
Indeed, should the forced returns carry out, human rights violations seem to be an inevitability. An asylum official in Greece, Maria Stavropoulou, told the Guardian on Friday she needed at least 20 times the staff available to adhere to the requirements of the deal. 
"I'm worried about very many things, but the main worry now is about having the capacity to process all these claims," Stavropoulou said.
According to John Dalhuisen, Amnesty's director for Europe and Central Asia, the deal in its current form in fact gives Turkey no incentive to fix its broken system.
"It seems highly likely that Turkey has returned several thousand refugees to Syria in the last seven to nine weeks," he said. "If the agreement proceeds as planned, there is a very real risk that some of those the EU sends back to Turkey will suffer the same fate.
"It is a deal that can only be implemented with the hardest of hearts."