An Autism Course Is Now a Part of This Virginia Police Department's Training Regimen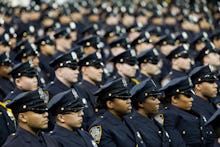 In Lynchburg, Virginia, an unexpected group is getting a crash course on how to handle people with autism: the police department.
Local news station WSET reported the 173 officers that comprise the department, in an effort to improve their responses to emergency situations, have been trained to recognize the way individuals with autism react and respond to the world around them — and the city is on the brink of becoming the first in the state to do so.
Ronnie Sitler, a member of the Lynchburg Police Department, told WSET that autism presents law enforcement with a unique spectrum of challenges when responding to conflicts.
"You've met one person with autism, you've only met that one person. There's not something that everyone reacts the same to everything," Sitler said.
When a person with autism is confronted by police, Sitler told WSET, it's important that officers understand what's happening — especially since the individual might react in a way that officers don't intuitively expect.
"It's not that they're mad, it's not that their angry, it's that they have a frustration of something in their body, something that's bothering them and they're trying to get it out, and we need to try to understand," Sitler said.
The group involved in the trainings, Commonwealth Autism, stated on its website its mission is to "build the capacity of the autism service provider network through partnership and collaboration." The collaboration with the police department is just one such partnership; the organization also offer trainings for the legal community, WSET reported.
Since learning how to safely de-escalate a situation involving a person with autism, officers told WSET they're ready for a variety of encounters.
Read more: Muslim Americans Are Model Citizens, According to a New Poll