Turn Yourself Into a Powerpuff Girl With the Help of This New Website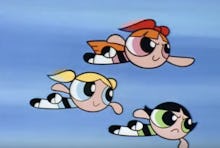 Childhood fantasies are (sort of) coming true with new website Powerpuff Yourself, which lets humans "sugar, spice and everything nice"-ify themselves into their own Powerpuff Girls character. The colorful website was launched in anticipation of the popular cartoon's reboot on April 4, according to USA Today. 
To build one of the petite superheroes, users just choose the eyes, hair, skin tone and outfit. Users aren't confined to just female characters either, as male Powerpuff characters are an option too. After building their Powerpuff Girl, users can download it as a GIF, avatar or wallpaper. 
Read more: This 'Powerpuff Girls' Clip Shows That the Girls Are Back and Still Feminist as Ever
Users can pick from a lot of accessories, like a dog, hoverboard and coffee cup. 
"Early on, brainstorming, we wanted to give kids the opportunities to remix the Powerpuff Girls in their own ways," Jill King, senior VP of marketing for Cartoon Network said, according to USA Today. "The team worked around the clock to create tons of different options and be super inclusive."
Nostalgic Twitter users were quick to create and then tweet out their little superheroes. One user called it their "childhood dream," and another said, "I always wanted to be a Powerpuff Girl."