Powerful Images Show the Destruction of Palmyra After Being Recaptured From ISIS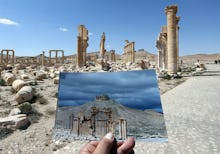 On Easter Sunday, Syrian government forces won a hard-fought battle to take back the ancient city of Palmyra, which had been under ISIS control for nearly a year. The following morning, archaeologists and journalists raced to the site, hoping against hope that the city had not been destroyed during its occupation by the militant group. When they arrived, officials found destruction — and a silver lining. 
In an interview with the Los Angeles Times, Dr. Maamoun Abdelkarim, the Syrian government's antiquities director, described the joy he felt upon finding that much of the UNESCO world heritage site remained intact.
"I had tears in my eyes. ... I expected destruction and all the columns to be on the ground, but thank God the damage is the same as it was last summer," Abdelkarim said. "The straight street, the baths, the fences of the two temples. ... There is damage, yes, but the panoramic view that tourists know of Palmyra remains."
Abdelkarim said that about 80% of the ancient ruins appear to be intact, much to the delight of many people, who assumed that the city was doomed after becoming occupied by a group known for destroying ancient artifacts.
In April 2015, the group released video footage of themselves taking sledgehammers to the treasured ancient Assyrian city of Nimrud in Iraq, destroying 3,000-year-old artifacts with abandon. The group has also burned books in Mosul, razed sculptures in Hatra and bombed walls in Nineveh.
But for officials in Syria last week, the discovery that Palmyra had not been leveled was a rare piece of good news for a country badly in need of it.
"It's as if someone has a burned face: We did not lose the man, but we lost the beauty of the face," Abdelkarim said. "It will not return to what it used to be, but we did not lose the person."