Los Angeles Man Facing Murder Charges for Killing Gay Son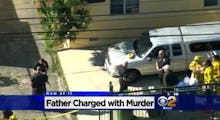 Homophobia claims another victim. 
A Los Angeles man, Shehada Issa, is facing charges for the premeditated murder of his son Amir, a 29-year-old gay man. According to the LA County Sheriff's office, Issa had made prior threats to kill his son for being gay.
"The murder was committed because of the victim's sexual orientation and because of the defendant's perception of that status and the victims' association with a person and a group of that status," prosecutors said in a statement.
In 2014, while hate violence against LGBTQ people declined overall — though it rose among transgender people — LGBTQ homicides rose 11 percent. Of all reported anti-LGBTQ homicides documented, 35% were against gay or bisexual men. 
Police officers arrested Issa after finding Amir's body outside of the family's home on Tuesday. Inside the home, they found the body of Issa's wife, who had been stabbed to death. Issa claims that, after finding his wife's body, he heard noises in his home and armed himself with a shotgun, leading to an altercation and shooting.
"He claimed [his son] was armed with a knife, and there was no knife to be found (there). It was a horrible family tragedy," Detective John Doerbecker told the Daily News.
Doerbecker also said that there had been ongoing problems between the son and the family. At the time of the murder, Issa and his wife were hoping to evict their son for vandalizing their home. 
Issa faces life in prison if convicted. 
h/t CBS News