In Kenya, Marathoners Race to Commemorate the Terror Attack That Western Media Forgot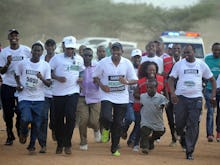 Exactly one year to the day after four al-Shabab militants stormed the campus of Garissa University in Kenya and gunned down 148 people, thousands of Kenyans gathered to pay tribute to the victims — and to prove that they hadn't been forgotten.
Professor Ahmed Warfa said that the memorial activities would include "dances, drama and other shows," and would culminate in a marathon to commemorate the day's somber history.
In the wake of the attack — the largest in Kenya since 1998 — Western media was heavily criticized for its lack of coverage. Though reportage of the incident was thin, in Kenya, the reverberations of the massacre are still felt daily.
Saturday's marathon served the dual purposes of honoring those murdered in the attacks and showcasing the talents of youths who are at risk of being radicalized, said Abdiaziz Mohamed, an African Talent and Change Foundation member and one of the event's co-organizers.
"This is a platform to promote peaceful co-existence among Kenyans," he said.
The threat of extremism has loomed large in the minds of Kenyans in the year following the attack. Officials say that disadvantaged youths have long been drawn to terrorist groups like al-Shabab in the hopes that they will help to relieve them of some of their financial burdens, but added that the radicals are now increasingly targeting the educated as well.
"Most of those joining al-Shabab are doing so because they believe they cannot get justice locally," Khalid said, "so they then opt to join terror groups in search of what they consider to be justice."
In the year since the attacks, many Kenyans are left questioning the government's response to the incident.
Political commentator Patrick Gathara said the lack of efficiency when responding to the massacre, coupled with the fact that no group has been prosecuted as of yet for the security breach that allowed the attack to happen, has contributed to a sense of unease with the country's government.
"Kenya is a country on the edge. People don't believe they are fundamentally safer despite what the government is saying," Gathara said. "There is no evidence the government has learned from its failings."