The CIA Accidentally Left Actual Explosives in the Engine of a Virginia School Bus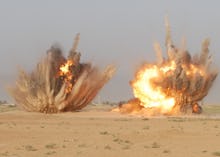 The CIA left a block of explosives in a school bus in Loudoun County, Virginia, following training exercises last week, the Washington Post reported.
The explosive, which the agency told the paper "did not pose a danger to passengers on the bus," was left behind under the hood of the bus while it was driving children on March 28 and 29. According to Loudoun County schools spokesman Wayde Byard, the device involved a "putty-type" material — so it was likely a plastic explosive (such as C-4).
Apparently, the explosive fell deep into the engine during K-9 training and was left behind when both agency officials and school bus drivers failed to notice it during visual checks. Authorities say that at no time was the school bus in danger of, well, actually exploding.
The Sheriff's Office told the Post, "The training materials used in the exercises are incredibly stable, and according to the CIA and Loudoun County explosive experts, the students on the bus were not in any danger from the training material."
"To prevent such incidents from happening again, CIA has taken immediate steps to strengthen inventory and control procedures in its K-9 program," the agency wrote on its website. "CIA will also conduct a thorough and independent review of CIA's K-9 training program. CIA performed a full inventory this morning and accounted for all the explosive training material used in the K-9 training program."
According to the Times-Picayune, while drills to locate explosives in schools are common in the Washington region, the presence of live explosives during these drills is not.
As Gizmodo's Sophie Kleeman notes, this is just the latest flop in a long line of CIA-involved mishaps, such as the time it lost plutonium in the Himalayas.