166 Years After 'The Scarlet Letter,' Not Much Has Changed in Terms of Slut Shaming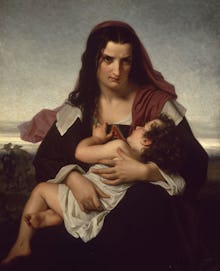 Think America has outgrown its Puritan beginnings? Think again. 
Slut shaming may be on the decline, but it's far from extinct. And nothing makes that more apparent than re-reading The Scarlet Letter. 
The classic novel you probably read in a high school English class (or may just remember as a reference in Easy A) is nearly 166 years old. The book tells the story of Hester Prynne, who is essentially slut shamed by her Puritan town for having a child out of wedlock.
So, what better way to celebrate its 166th anniversary than by seeing just how far we've really come? Check out these quotes from The Scarlet Letter with recent news stories to see for yourself.  
Then: "Let her cover the mark as she will, the pang of it will always be in her heart." 
When Hester is first released from prison (yes, she went to prison for being pregnant out of wedlock), some townsfolk are doubtful that the red "A" will shame her enough. But if the mark alone doesn't do its job, they're confident the "pang" of regret will always haunt her. 
Now: "Do you not sometimes get affected by the fact that your past...will continue to haunt you?" 
In a recent interview, a reporter inundated Bollywood actress Sunny Leone with a slew of slut-shaming questions. Why? Leone was formerly a porn actress. And even though Leone has been clear that she has no regrets about her past, the reporter couldn't let it go. 
"If I was to turn the clock back, would you still do what you did?" the reporter asked Leone. The clear implication: Despite her success, Leone should be haunted by her former profession — even though she doesn't think she has anything to be ashamed of. 
Then: "Hold thy peace, dear little Pearl!...We must not always talk in the market-place of what happens to us in the forest." 
Toward the end of The Scarlet Letter, Hester and her daughter, Pearl, sneak off to the forest and meet with Pearl's father. (We won't spoil it for you, but it's a shocker.)
There, they're free, and Hester even briefly sheds the scarlet letter and her shame. But when they're forced to return to the village, Hester has to shush her daughter from speaking of the incident. All sexual matters were private — and for Hester, losing that privacy could be disastrous.
Now: "I think we have a right to privacy, but when we take inappropriate information or pictures, we had best make sure it remains private."  
For Hester, the biggest threat to her privacy was her loose-lipped daughter. Nowadays, there are hackers to worry about. From celebrity nude photo leaks to revenge porn sites, no one is safe from having the details of their private sex lives exposed.
This was made clear back in March, when a student stole teacher Leigh Anne Arthur's phone and posted a naked photo of Arthur on social media. As a result, Arthur herself was rebuked for leaving her phone out in full view of the student. Why? According to the district interim superintendent, she didn't do her job to "make sure it remain[ed] private," reflecting the view that when female sexuality becomes public, the woman is usually at fault — even if it's without her consent.
Then: "Some attribute had departed from her, the permanence of which had been essential to keep her a woman."
After Hester commits adultery, she doesn't even receive the label of a woman anymore; in the view of the public, Hawthorne writes, her sexuality overrides her personhood, because a true "woman" can't possibly be openly sexual.
Now: "Too hot to teach"
Now, expressing your sexuality doesn't quite remove your qualification to be considered a human being — but it can disqualify you from assuming other roles.
In yet another story of a teacher being slut shamed, 21-year-old teaching assistant Gemma Laird reportedly lost her job after photos surfaced of her modeling underwear. One headline from the British newspaper the Sun summarized the incident thusly: Laird was simply "too hot to teach." Because somehow if a woman is sexual, she can't possibly be anything else at the same time — and she certainly can't be a teacher.
Then: "This woman has brought shame upon us all, and ought to die. Is there not law for it? Truly there is...in the Scripture."
When Hester is sentenced to wear the scarlet letter, some of the townspeople don't think her punishment is severe enough. What punishment would be appropriate? Death. And while it may be easy to laugh off fictional Puritans from 166 years ago, the modern-day equivalent of this opinion is anything but amusing. 
Now: "You're trash. Women who walk around in short dresses as you did deserve to be raped or killed by stoning, as stipulated in the scriptures."
Andrea Noel, a journalist based in Mexico City, was recently harassed on the street when a man ran up to her and pulled down her underwear. Hoping to identify and punish the man, Noel shared a video of the incident on Twitter. 
But instead of helping identify her attacker, many people instead attacked Noel herself. "What they did you deserve for being a woman, a bitch, a slut that any man can take as he pleases," one person wrote in a Twitter direct message. When Noel started publishing these tweets, people responded with death threats. 
Then: "A pure hand needs no glove to cover it." 
This quote was actually about Hester's lover, after someone discovers his role in the affair. Of course, even once discovered, the man faces no public shaming for his acts. Oh, the slut-shaming double standard!
Now: "I wouldn't call Kim's body confidence. I'd call it self-exploitation."
The purity double standard is still alive and well today. Just look at when Kim Kardashian West posted her recent nude selfie on Twitter. Perez Hilton was one of many to shame her for showing her body, calling it "self-exploitation." What he conveniently forgot to mention: He's posted several naked photos as well.
Then: "In all her intercourse with society, however, there was nothing that made her feel as if she belonged to it...like a ghost that revisits the familiar fireside, and can no longer make itself seen or felt." 
Slut shaming doesn't come without side effects. One of them? Not feeling like you are "seen or felt" as yourself. Society has already decided who you are, and your true identity holds as much power as a "ghost." Whatever Hester did after her affair didn't matter, because society had already decided who she was.
Now: "Women are tweeting their cleavage in solidarity."
When Susan Sarandon wore a low-cut blazer to the Screen Actors Guild Awards in January, she was roundly critiqued for showing off her cleavage. The loudest critic? Piers Morgan, who called her outfit "horribly inappropriate."
But Sarandon didn't go undefended. The hashtag #CleavageGate took off on Twitter, with women posting photos of their own cleavage in solidarity.
If nothing else has changed in the past 166 years, today's connected world has made it easier than ever to find supporters in the face of slut shaming. And while Hester Prynne had few supporters, we have all of Twitter to get our backs.