Alleged Kalamazoo Gunman Says He Asked Victim to Help "Make America Great Again"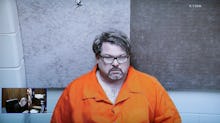 Jason Dalton, the 45-year-old Kalamazoo, Michigan Uber driver accused of killing six people and wounding two others in a rampage on Feb. 20, dropped an apparent reference to Donald Trump's presidential campaign mid-rampage, according to a recently released police report in the Kalamazoo Gazette.
In the report, Dalton says he asked 62-year-old Baroda woman Mary Lou Nye whether she could help him "make America great again" before killing her and three others in the parking lot of a Cracker Barrel restaurant. Abigail Kopf, 14, was present there and was shot in the head, but survived.
"Make America Great Again" is the Trump presidential campaign's official slogan.
"Jason advised he walked up to the lady and asked her if she could spare a dollar to make America great again," the paper quotes the report as saying. "The woman advised she didn't have the dollar to spend. Jason stated he shot the woman at this time ... Jason advised he was going to run away, but then he heard people scream."
"Jason advised he shot the people in the car and he said it was like it was telling him where to shoot," the excerpt continues. "Jason stated he remembers shooting a small person in the head."
However, it's not clear the shootings were directly connected to the alleged perpetrator's political views. In the rest of the excerpt, Dalton describes slipping out of, and then back into "reality" on the night of the multi-hour rampage, as well as believing he was under the control of the Uber app.
"There is no connection between any of them, this all appears to be random," Kalamazoo County Undersheriff Paul Matyas said of the victims during the hunt for Dalton. "This is the worst-case scenario that any community can have."