ACM Awards 2016: Livestream, Channel and Full Preview for Biggest Night in Country Music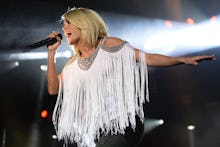 The annual Academy of Country Music Awards is kicking off Sunday night in Las Vegas, with a fleet of country stars set to take the stage, including Jason Aldean, Cole Swindle, Tim McGraw, Carrie Underwood, Keith Underwood and Nick Jonas. Luke Bryan and Dierks Bentley will host the ACM's 51st awards show, beginning on CBS from the MGM Grand Arena at 8 p.m. Eastern in Nevada. 
Read more: 11 Musicians Who Prove Country Music Is For Liberals Too
While fans typically vote on their favorite country music artists each year at the ACM Awards, Billboard reported this year will see a major change in how musicians are selected to receive the coveted trophies. Because of a reported excessive amount of campaigning tied to voting for certain artists at the ACM awards, the show will instead have multiple music industry experts select the winners of the night instead of putting it to a vote. 
"After an eight-year experiment intended to improve consumer engagement — and Nielsen ratings — the ACM has abandoned fan-voting for entertainer of the year and its three new-artist categories, thanks to the cost of participation and several rifts that had developed among artists," Billboard reported. "The program was controversial from the start. Kenny Chesney, after winning the first fan vote for entertainer in 2008, criticized the process backstage, complaining that instead of acknowledging artists' hard work, the vote had devolved into a marketing contest that rewarded people for 'seeing how hard you can push people's buttons on the Internet.'"
Garth Brooks will also be in attendance via satellite, where he's expected to hand out one of this year's awards. Jake Owen, Chase Rice, Kiefer Sutherland and Martina McBride also join the roster of star-studded award presenters Sunday night. This year, CBS will livestream the event in its entirety for CBS All Access users, as well as on its CBS app, available in the App store and Google Play.