Nevada Inmate Forced to Rip His Own Teeth Out After Being Denied Medical Attention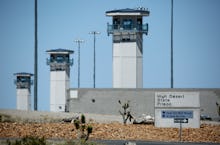 A Nevada inmate who was forced to rip out his own teeth after his requests for medical attention were denied was just granted a $60,000 settlement from the state.
During his 2012 stint in solitary confinement at High Desert State Prison, Michael Sanzo, 47, made multiple complaints to guards after the sharp pain he had been feeling in his bottom teeth became unbearable.
Read more: One Chart Perfectly Captures America's Massive Prison Problem
On an emergency grievance form he filed on October 9, 2012, Sanzo wrote that teeth were moving back and forth "like piano keys."
"I can barely take the pain any longer," the form read. "I can barely eat, I can't sleep at night." 
Sanzo began to write letters to prison staffers in the hopes that someone would recognize his pain and offer assistance.
His sixth letter, written three months after the first, read, "I have had to cry myself to sleep in such pain!"
For eight months, guards gave Sanzo the same response: wait your turn.
The pain worsened, and Sanzo eventually took matters into his own hands. He removed six teeth on his own, and according to court documents eventually attempted suicide by asphyxiation with a bed sheet.
In a written letter to Sanzo, the a dental assistant for the prison cited the large population at the facility as an obstacle to treatment.
"You need to look at the big picture. A lot of inmates here," the assistant wrote.