'Empire' Doesn't Do That Well Outside the US Because of Its Diverse Cast, TV Exec Says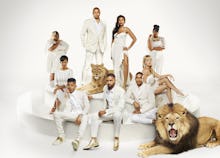 Empire is killing it at home. Even with a small season two ratings slump, it's still a pop cultural phenomenon of the highest order within the U.S. Elsewhere, though, it's another story: According to the Hollywood Reporter, diverse casts don't tend to play well with international audiences, which in turn helps to explain why they're not as aggressively funded in Hollywood.
Read more: CoverGirl Collaboration With the Boss Ladies of 'Empire' Shows How Diversity Is Done
"These shows are a reflection of our society, but [they are] not a reflection of all societies," Marion Edwards, president of international TV at Fox told THR of shows like Empire, which have expanded the range of stories that get told on television. 
"Having a diverse cast creates another hurdle for U.S. series trying to break through; it would be foolish not to recognize that," she continued. "We are telling our units that they need to be aware that by creating too much diversity in the leads in their show means ... problems having their shows translating to the international market."
According to THR, Empire pulled in an underwhelming 717,000 viewers when its first season aired on the U.K.'s E4 network, its second season attracting an audience of only 595,000. In Australia, 181,000 people tuned in for season one, that number dwindling to 77,000 for season two. 
In Canada and Germany, audience numbers were similarly low, a viewer turnout that's especially disappointing when compared with the show's consistent weekly audience growth in the U.S. Some 16.7 million viewers watched Empire's season one finale live. Despite an audience dip in the show's second season, its fall finale still drew 11.2 million people.
The disparity is an unfortunate one for an industry that's increasingly come under fire for its lack of inclusivity. The arenas of television and film prioritize projects for white audiences — artists who push for stories that speak to black audiences, for example, are often fighting an uphill battle. When Nate Parker pitched his Sundance hit, The Birth of a Nation, he was repeatedly told that a movie about a slave revolt wouldn't sit well with white audiences, that it couldn't gain traction overseas without a white star. The film later sold for a record $17.5 million to Fox Searchlight.
It took Parker years to get the green light on his movie; many others aren't so lucky. The reminder that efforts at upping inclusivity backfire with international audiences is a frustrating one, because it indicates that industry-wide change — tied as it is to financial concerns — will only come very slowly. 
On that note, though, it's worth noting that audiences abroad don't seem to have a fundamental aversion to watching people of other races on screen. THR noted the huge popularity of crime dramas NCIS and CSI amongst international viewers, and explained that both the Cosby Show and the Fresh Prince of Bel-Air attained huge popularity wherever they aired. They might, however, have an aversion to shows that tell "specifically black stories." 
"If it's too black, it might be too unwatchable for certain people," as Vulture put it. 
Part of the problem, too, is the long-form TV show coming out of the U.S. these days, according to THR. While our television increasingly resembles the miniseries, with hour-long installments and plot that builds on itself over the course of a season, international viewers tend toward easily digestible episodes that are shorter in nature and perhaps not designed for binging. Bite-sized television snacks, if you will. Ideally with a white — or, not not white — bent, it seems.