'Saturday Night Live' Targets Donald Trump's Sexism and the Female Pundits Who Love It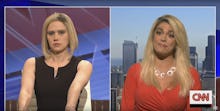 The March 2, 2016 edition of Saturday Night Live tackled female supporters of real estate billionaire Donald Trump, devoting a whole cold open to the candidate's sexism and the tortured logic used to explain it away by Trump surrogates like cable-news regular Scottie Nell Hughes.
In a five-minute sketch, Hughes (Cecily Strong) and CNN host Kate Bolduan (Kate McKinnon) discuss —  and tear apart — everything from Trump's stance on abortion and his sexist remarks about women to whether or not the candidate tolerates violent behavior at his rallies.
"As a woman I like Donald Trump, but as a full-blown nutjob, I friggin' love him!" Strong, as Hughes, quips in the sketch. She tries her best to find an elaborate excuse for him, saying "At least Donald is talking about women. He is creating a dialogue about women" in response to a fictional clip of Trump saying his daughter Ivanka has a "tremendous rack."
At one point, Strong justifies Trump's decision to attack fellow candidate Ted Cruz's wife by earnestly saying "let's not forget Heidi Cruz is no angel, she has been arrested ... Donald told me she is so fat she was arrested for having ten pounds of crack."
"You can't break me, Kate," Strong eventually concludes. "Because I'm crazy, and crazy don't break."
The real Hughes took to CNN to defend herself on Sunday morning, but probably could have done a more convincing job.
"First of all, I said 'Oh my god I have roots,'" she said. "And she better have a Southern accent. That look was so 2015, SNL. Update it, I've cut my hair."