Here's What a Beyoncé Studies Class Would Look Like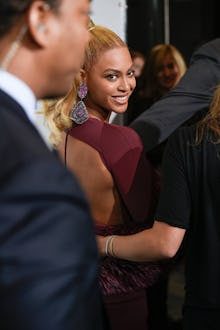 In 2010, then-Rutgers University doctoral student Kevin Allred launched a unique take into feminist theory using one of the most popular artists in the music industry today, Beyoncé. Allred connects black feminist theory with Beyoncé as the subject of discussion within the course. 
"I wanted to create a full syllabus of black women's writing, black feminists' writing ... and I wanted to orient it around Beyoncé," Allred told Elle Magazine. "I had no idea what it would turn into, but it's become this platform that I'm super excited about, marrying pop culture and politics and the world around us in very interesting ways."  Allred's course, however, was removed from the Rutgers course schedule for the spring semester with no explanation. 
Read more: Beyonce' Clothing Line: Stores and Online Stores Where You Can Buy and Rumored Price
Readings from Alice Walker, Sojourner Truth, bell hooks, Audre Lorde and other black feminists and writers are offered on the syllabus.  
"When Sojourner Truth wanted to know in 1851 Ain't I A Woman? she was speaking both to the intersection of race and gender and illuminating the fact that gender categories were built around whiteness," Allred said about how he made the connection between Queen Bey and abolitionist Sojourner Truth in his classroom to Elle. "Stating 'I'm a diva' in 2009, Beyoncé makes a similar claim. The term 'diva,' often used pejoratively, sits at the intersection of race, gender, and sexuality. By reclaiming the term and using it to empower herself, Beyoncé is a modern-day echo of Sojourner Truth."
Courses on Beyoncé are also offered in Canada, showcasing the artist's global influence. The University of Victoria and the University of Waterloo have created courses that follow the life and career of the 34-year-old singer. The University of Texas-Austin also offered a course titled "Beyoncé Feminism, Rihanna Womanism" for the Spring semester in 2015, according to Yahoo Style. 
Queen Bey's husband, Jay Z, is the focus of a course available at Georgetown University titled "The Sociology of Hip-Hop: The Urban Theodicy of Jay Z," taught by professor Michael Dyson. 
"Politicizing Beyoncé" is the groundbreaking interdisciplinary college course that attempts to think through contemporary U.S. society and its current racial, gender, class, and sexual politics using the music and career of Beyoncé Knowles-Carter alongside historical and contemporary black feminist texts," Allred's official website reads.