How Bravo's 'The Real Housewives' Shifted From Jeans and Tees to T&A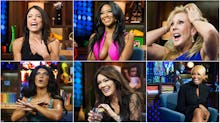 When The Real Housewives of Orange County premiered in March 2006, the premise was uncomplicated: an inside look at the personal and professional lives of five women living in Coto de Caza, California, a gated community with a population of roughly 14,000. 
The glamour was expected. The drama — tables flipped, wine glasses thrown, weaves tugged, suicide, infidelity, rehab and oh so much more — that would become a signature of the now-nine Housewives franchises was not. 
Read more: Is Teresa Giudice Coming Back to Season 7 of 'Real Housewives of New Jersey'?
"I think the worst are the Housewives shows," Gloria Steinem said during a 2013 speech at Simmons College, "because they present women as rich, pampered, dependent and hateful towards each other."
Steinem's distaste aside, the "pampered" aesthetic reflected in the ladies' red carpet-ready gowns and expertly painted-on faces was not always the norm. For proof of this, look at this promotional photo of the original Orange County cast from 2006:
Now compare that to this shot of the cast from 2015:
In the early days, before the various series became a cultural phenomenon, before the onslaught of social media trolls and callouts, before the women became keen on the idea of the show being a catalyst for developing a personal brand — one that could go on to sell books, clothing lines and, of course, low-calorie margaritas — the show was, for lack of a better word, real. 
While the money was there well before the show came knocking, the awareness of how that money should look on the ladies has been finely tweaked over the last decade, allowing even a casual neighborhood stroll to be an opportunity to play dress up for the cameras. Cultural critic Camille Paglia compared the show to '80s prime-time soap opera Dynasty in her essay, "Why I Love the Real Housewives."
"I think you can tell now with [the newest franchise] Real Housewives of Potomac that there's an overall shift in aesthetic," T. Kyle MacMahon, a self-described Bravo superfan and the creator of RealityTVGIFs.com, said over the phone. "The lighting is so bright, the backgrounds are really high-end and they're all in gowns and dressed to the nines."
But back in 2006, before any of the women had ever experienced seeing themselves on the show or received any form of criticism, critique or ridicule, the focus seemed to be less on the way they looked and more on highlighting their ordinariness within anything but ordinary circumstances.
Ten years (and 93 wives) later, so much has changed. And that is no more obvious than the shifting style of the women at the center of series. Join me, let's dig in.
Cue the costume changes
In the beginning, novices to the mechanics of being filmed for a reality show, the women dressed rather plainly. Sure, they might strap a Louis bag on their wrist, but jeans and T-shirts weren't uncommon.
"When you first saw the women, especially the OC women, they were really truly the girls next door; there wasn't a ton of sheen or extras," Dorinda Medley, cast member on The Real Housewives of New York City, said over the phone. "You can tell that once they saw the show, and saw themselves on the show, they definitely tweaked, got some good advice and took some hints."
It wasn't until the premiere of The Real Housewives of Atlanta in 2008 that style became an apparent essential across all franchises, and with it, the idea of one-upping one another. "We're definitely all into fashion," Sheree Whitfield declared in the premiere episode of Atlanta in 2008. 
"I think everybody wants to know who's wearing what," Kim Zolciak-Biermann said later in the episode. "I love labels. And everybody knows that. So it's kind of fun for people [to wonder] 'What's Kim going to wear?'"
Note: This is what Zolciak-Biermann wore later that evening:
Zolciak-Biermann throughout her five seasons on the show made no secret her love of "couture," even of the Juicy variety.
"The girls in Atlanta would spend their own money to look as glam as possible," Michael Call, a former producer for Real Housewives of Atlanta and New York City said over the phone. "When I worked on [season two], they had to shop their own closets for wardrobe. Now they all have stylists, they come in with outfits, racks of clothes. It's a wild thing."  
How much money goes into this? Tens of thousands of dollars on wardrobe alone, according to Kevin Lee, a former executive producer and showrunner of The Real Housewives of Orange County. "Some of the new housewives (who are paid less then the veterans) actually spend more money on their wardrobe than they make being on the show," he said.
Turning over-the-top style into a brand
But that money could turn out to be an investment. 
A big turning point, according to Call, came in 2010, during season three of The Real Housewives of New York City. Bethenny Frankel was introducing her Skinny Girl business at the time, and used the show as a promotional vehicle. "The other women took note of that and started finding other cross-promotional opportunities and started paying attention to how they looked in a bigger way," Call said.
In turn, some women's style started to become part of their brands. With help from the rise of social media, confessional looks (when the women privately speak directly to the camera), like when housewives get new taglines, become conversation pieces. 
"I remember Erika [Jayne] recently, in the first two or three episodes she was wearing a Barbie pink outfit, and then a few episodes later she debuted a gold sequin look with a slick high ponytail and everyone was like, 'OMG, Erika's new gold outfit is so fierce,'" T. Kyle recalled. "It becomes almost part of the storyline. 'What are they going to wear next week?'"
"I've looked at some of my looks and wanted to scream," NeNe Leakes, who has appeared on all eight seasons of The Real Housewives of Atlanta said in a phone interview. "It's a huge challenge. I'm always trying to think outside of the box. But over the years, I definitely have grown into my own and found the labels that really work for me and my body type. I've also learned what looks good on camera and what doesn't. I'm definitely a better fashionista than I was eight years ago."
Grooming as a part-time job
Just as the clothes got more high-end and fashion took center stage, so did beauty. No Housewives discussion would be complete without talking about the hair: from slicked-back natural locks to wigs, weaves and extensions, having just one signature 'do was never enough for these women who make a sport out of changing their look.
"I'm shocked by the amount of time and effort and money (and pain) the women put into grooming," Lee said. "Grooming is a literally a part-time job for housewives. Many (but not all) of the housewives look like completely different human beings before and after their grooming process.
"Since day one I have always had my hair and makeup stylists get me ready," Melissa Gorga, current cast member on The Real Housewives of New Jersey, said in an email.
Some do it themselves. "I have a proper TV makeup box, which is a little more intense then what I have floating around my bathroom," Medley said. "It's literally a Staples lockbox — because I don't want my daughter to get into it — with all the things I need for TV-specific makeup."  What's included in such a box, you might ask? "I love [Yves Saint Laurent] Touche Éclat Le Teint Foundation and Sisleÿa Global Anti-Age."  
You know, the cheap pharmacy stuff.
Was this always the case? Not so, according to Lee. "They are much more cognizant now of the fact that millions of viewers will judge and comment on their looks," he said, adding: "Some of the fun — and funny — [of the earlier years] has been lost."
"After you watch yourself on TV during your first season you always want to do a major edit," Gorga said. "As a Jersey girl, I came out on Season 3 as expected with the dark black long hair and the spray-tanned skin. I have totally done a 180: I chopped my hair, lightened it and now I prefer my skin to be as light as possible. I've learned that makeup looks better with lighter skin. But when I am not filming or at an event, I am totally comfortable not having my hair and makeup done. People are actually refreshed to see that we aren't always done up."
High-end bodies for high-end clothes 
No physical staple has occupied the attention of both the wives and viewers alike quite like the series ample servings of bosom.
"Cleavage on the Housewives franchise means you're rich enough to afford a boob job," Brandi Glanville, a former cast member on The Real Housewives of Beverly Hills, said over email. "It's like the rich version of a tramp stamp."
To what lengths do the women go? "I actually never applied makeup to the girls during the interview process," Glanville admitted. "I would, however, have my spray tanner shade them for me. I applied highlighter to my collarbone and called it a day." 
But when it comes to all-out boobage, no wife compares to Leakes.
"When I first started the show, I had just gotten new boobs," Leakes recalled. "They were my new girlfriends. I was just really excited about them, about not wearing a bra. Over the years, I've gotten older and obviously more mature, but I still thinks it's OK to show off our cleavage in a tasteful kind of way. I like it. I'm not going to make an excuse. I think it's sexy. Bloop!"
With the upcoming ninth series, The Real Housewives of Dallas, set to kick off Monday, its clear the franchise on the whole has leaned entirely into its predilection with high-gloss presentation, ditching the "real," in favor of fabulosity. It's a pivot, for sure, but one that, for those who know how to work it, has turned many former women of leisure into powerhouse brands.
Now, to quote Atlanta's Phaedra Parks, "twirl on that."