James Dixon Said He Felt His Manhood Was "Threatened" After He Flirted With Islan Nettles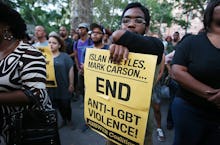 James Dixon, the 25-year-old man accused of killing a transgender woman named Islan Nettles in 2013, felt that his "manhood" was threatened after he tried to flirt with Nettles.
According to the NY Daily News, retired New York Police Department Detective Thaddeus Hall questioned Dixon. "There's something that leads up to the altercation, so what transpired?" Hall asked, the News reported. "Did you try to holler at her?"
Read more: Trial Begins for James Dixon, Man Accused of Killing Black Transgender Woman Islan Nettles
During the questioning, Dixon told Hall that yes, he was "trying to seduce Nettles" until he heard his friends shout, "That's a man!" He also mentioned that his friends "clowned" him for previously flirting with other transgender women. While being questioned, Dixon said "I just didn't want to be fooled," the News reported.
In a statement written by Dixon himself, after he asked Nettles if she was once a man, he dealt a swift punch to Nettles. Nettles fell to the ground, and later died from a brain injury. Brutal attacks like these have killed over two dozen transgender persons in the United States, since Nettles' death in 2013. 
"Across the country, transgender women of color are disproportionately targeted for violence and homicide because of who they are," Shelby Chestnut, who is the co-director of community organizing and public advocacy at the New York City Anti-Violence Project, told Mic. "Right here in New York City we lost Islan Nettles to this senseless violence. We are here to say that her life matters, that she matters, and this violence must end. That the trial date start coincides with Trans Day of Visibility feels important."
Dixon was charged in March with first-degree assault, as well as first and second-degree manslaughter," and could face up to 25 years in prison.