The Backstreet Boys Have Landed a Las Vegas Residency, Nick Carter Confirms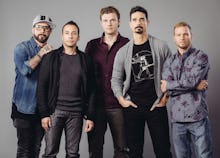 Great news, world — Backstreet's back (alright). Following in the footsteps of Britney Spears, the Backstreet Boys will be doing a Las Vegas residency with Live Nation, Nick Carter recently confirmed to Entertainment Tonight at the premiere for his new film, Dead 7. They'll be doing nine shows to start, and if that all goes well, Carter said, BSB could be looking at a longer stay in Sin City. The first nine shows are, as Carter put it, "a trial run."
Read more: Zayn Malik and His Beard Fell Victim to Boy Band Beauty Standards
As fellow Backstreet Boy Kevin Richardson told ET, it's a practical arrangement for bandmates (and in turn, a promising one for fans). Richardson said that the Boys spoke with Spears — your early aughts self is spasming in delight right now — about her Las Vegas residency experience and gleaned that it would jell with everyone's schedules. 
"It seemed really convenient for the family!" Richardson said. "A Vegas residency, now that we're all fathers, could be very convenient for us." There is, however, the small issue of new music to resolve first. Because — as Richardson told ET — BSB is "definitely in the studio recording a brand new album."
What else is on tap for the Backstreet Boys? Quite possibly a world tour with the Spice Girls, if the girlband feels so inclined. "We put the invitation out there and the girls just gotta figure it all out," Carter told ET. Figure out how to make our preteen dreams come true, that is. 
When the Backstreet Boys initially parted ways, bandmates went in various directions and manager Lou Pearlman wentaway with much of their money (he was subsequently jailed for the Ponzi scheme that robbed the group members of millions). So it's nice to see them make their triumphant return over a decade later, still riding that same wave of boyband fame.