Mossack Fonseca Data Leak Ties World Leaders, FIFA Officials to Shady Offshore Accounts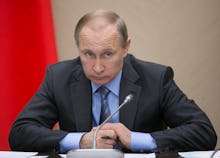 The results of an international journalistic investigation into a staggering data leak of 11.5 million financial documents from Panamanian law firm Mossack Fonseca implicate dozens of high-profile world leaders and politicians across the globe, according to a report from the Center for Public Integrity released Sunday.
Data from the leak, which is being called the biggest ever, shows what many already suspected — firms like Mossack Fonseca, as well as financial institutions, help rich and powerful clients from around the world use offshore accounts to shield the circulation of huge amounts of money from prying eyes. Researchers found in addition to simply hiding funds from would-be tax collectors, the system is used for purposes ranging from laundering drug cartel money to concealing bribes.
The legitimate institutions involved rarely face legal consequences, even when they work to "[conceal] suspect transactions ... [and] head off official investigations by backdating and destroying documents," the CPI's investigative unit, the International Consortium of Investigative Journalists wrote on its website.
In one of the biggest revelations, the report "exposes the offshore holdings of 12 current and former world leaders and reveals how associates of Russian President Vladimir Putin secretly shuffled as much as $2 billion through banks and shadow companies," the CPI added.
Other world leaders tied to suspect offshoring arrangements in the papers include former Egyptian President Hosni Mubarak, late Libyan dictator Muammar Gaddafi, Syrian strongman Bashar al-Assad, Pakistani P.M. Nawaz Sharif, Ukrainian President Petro Poroshenko and Sigmundur Davíð Gunnlaugsson, the prime minister of Iceland.
On Sunday, Gunnlaugsson walked out of an interview following a question concerning the offshore accounts.
The papers also "contain new details about major scandals ranging from England's most infamous gold heist in 1983, an unfolding political money laundering affair in Brazil and bribery allegations currently convulsing FIFA, the body that rules international soccer and is under investigation by the U.S. Justice Department," CPI noted.
In the FIFA investigation, investigators found extensive covert business ties between one of the soccer committees' leaders accused of corruption and a member of the FIFA ethics board.
In the case of the gold heist, investigators found evidence Fossack Monseca continued to do business with a company accused of laundering profits from a $40 million six-man gold heist near Heathrow Airport in 1983 — and even worked to protect the company from a government takeover.
Mossack Fonseca denies the leak reveals any unethical or illegal activity.
A series of six articles detailing initial findings from the CPI investigation and its media partners is available on the group's web site. More revelations from the documents are expected to be released in coming weeks.