Portland College Launches "Whiteness History Month," Has Good Intentions, Ill-Advised Name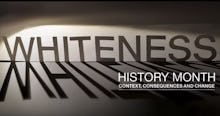 Portland Community College rolled out a new program in April that seeks to "challenge the master narrative of race and racism through an exploration of the social construction of whiteness." Sound great, right? There's a catch: the program is called "Whiteness History Month," and the divisive name is distracting some from what the curriculum aims to teach.
A video called "What Is Whiteness History Month?" released by the Oregon-based college says that the program "looks to examine race and racism through a study of whiteness."
"Whiteness as an idea means something in our society," the narrator explains. "Context looks at when, how and why it was created."
In an interview with local news station KATU, PCC freshman William Haley said that he was on board with the aims of the initiative, but puzzled by the name.
"I think what they were trying to do was a good idea," Haley said. "There's a lot of people out there who, rightly, have to acknowledge the fact that white people, white males like me who've come from an upper-middle class family are gonna not have had to deal with certain things."
Haley said that a white person might be more likely to get "hall passes" on certain things, like getting pulled over by the police, than a person of color might be. "That isn't rightly deserved in a lot of cases," he said.
One of Haley's African American classmates, Abdul Ahmed, echoed that he thought the goals of the program were valuable, but felt that the name might actually be ironically contributing to a culture of white privilege.
"You don't want to call it Whiteness History Month," he said. "You just make it seem like it's all about white people."
Craig Kolins, a dean of instruction at PCC's Southeast Portland campus, pushed back against the idea that the program was unnecessarily aggressive in its approach.
"This is not about shaming white people. It's really about providing a better understanding for all of us," Kolins said. "This is an opportunity to dialogue about some of the tensions ... created because of the societal pressure of whiteness."