Teen Shuts Down Homophobic Aunt With Brutal Clapback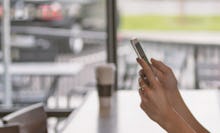 Aunt Marie definitely had it coming. And Twitter teen @maggieglenn — burgeoning internet star Charlie — had no problem letting her have it. The now-nefarious Marie started a viral feud by hurling a homophobic slur at her niece, who promptly posted the exchange to Twitter.
Read more: Teen Forced to Wear Backpack Full of Rocks to Cure Her Lesbianism
"I got into a fight w my auntie and she said 'at least I don't have to worry about my kid being a f*ggot like your mum does,'" Charlie tweeted. In the iMessage conversation that ensued, said auntie really outdid herself with the homophobic insults.
"You need to stop being so sensitive I did not mean faggot in a bad way I just mean you gay people have a lot of drama," Aunt Marie told her niece over text. "I tried to understand this bi shit you claim to be but you teenagers make stuff up all the time. Youre young you will find a man. You can change. You used to be so clever." 
Charlie minced no words in her champion response. In answer to her aunt's request that she not attend Indie's birthday party, if she could accept the [probably super generous and not at all offensive] offer of help extended to her, Charlie issued a tremendous clapback.
"Don't worry about it!" she wrote. "I know what you're like after a few bottles of wine. I can't make Indie's birthday I'm afraid, I have a huge lesbian orgy that day and me and the other faggots have been planning it for months."
Which would've stood up just fine on its own (especially from a grammatical perspective), but Charlie wasn't done. "By the way how's your divorce going?" she continued. "I saw uncle Lee with his new girlfriend, she's 20 years younger than you right? Speak soon!"
Naturally, Charlie's ruthless response gained traction on the internet. Her Twitter clout ballooned in just 24 hours. 
And as Indy 100 reported, her shutdown of Aunt Marie launched not one but two hashtags — #TEAMCHARLIE and #auntiemarie — and a parody account, @AUNTIEMARIEHO.
The parody account is suitably brutal.
Charlie, now with nearly 18,000 followers, seems to have trounced Auntie Marie. Kudos, Charlie — we salute you.