The iHeartRadio Awards' Best Red Carpet Dresses Were Actually Badass Pantsuits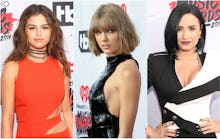 We have nothing against dresses. Gorgeous, flowing red carpet gowns can be true things of beauty, artwork that's worn and lives on for decades in iconic photos. 
But as much as we love dresses, sometimes, we can really just go for a good jumpsuit.
Thankfully, jumpsuits and their traditional forebears, pantsuits, seem to be the red carpet wave of the future. After Lady Gaga took a white jumpsuit for a rare spin at the 2016 Oscars, the biggest celebrities of the music world hit the iHeartRadio Awards on Sunday in pants galore, from jumpsuits to pantsuits and other creative pants-top iterations.
Taylor Swift complemented her controversial bob with a black sequined jumpsuit... 
...while her pal Selena Gomez pulled off a two-piece set in an orange hue most of us can only run from dream of.
Demi Lovato was the chicest black and white cookie ever in her own suit.
Meagan Good went for the low-cut version (plus a curious bowl cut).
So did dancer Cheryl Burke, but with some incredibly classy long sleeves.
Jhené Aiko might be the least pop of the group, but she stood out in a baller print. 
Meanwhile, Zendaya just went with a straight-up suit, no jump needed.
And with that, it's official: Jumpsuits and their chic cousins are not only still in style, but they are quickly making dresses look like old news. We doubt many women are complaining.