Caitlyn Jenner to Appear on 'Transparent' Season 3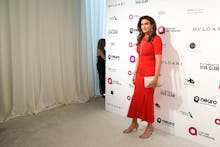 Caitlyn Jenner will join the cast of Amazon's hit series Transparent for its third season, which she will begin filming next week.
The news came during an interview with the show's executive producer Jill Soloway at the GLAAD Media Awards on Saturday, during which she called Jenner's guest appearance "a dream come true," the Associated Press reported. 
Jenner's journey somewhat parallels that of Transparent protagonist, Maura Pfefferman, played by Jeffrey Tambor, in that they both came out as transgender women later in life. 
Read more: Ricky Gervais Joked About Caitlyn Jenner and 'Transparent' at the Golden Globes
Convincing Jenner to appear on the Golden Globe-winning show was not a difficult task, said Soloway. "We are all part of the same community," the executive producer told the Guardian. "A lot of the trans women who work on our show are also in her show, I Am Cait. Lots of crossover. Lots of friends."
While Jenner's reality TV resume is lengthy, her conventional acting career more or less stalled since she appeared as Officer Steve McLeish (as Bruce Jenner) on the 1980s police drama CHiPs. But for those who doubt the veracity of reality TV, slipping into character should be a simple transition for Jenner.