Justin Bieber's Dreads Get Dragged for Cultural Appropriation on Twitter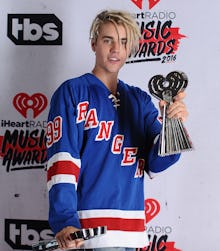 Before Justin Bieber attended the iHeartRadio Music Awards Sunday night, he slipped into a pair of ripped acid wash jeans and an oversized New York Rangers jersey, and had someone twist his hair into dreadlocks. 
At one point, he probably looked into a mirror and thought, "This. This is a good idea." 
Well, according to the internet, it wasn't. 
As soon as the Twitterverse got a glance at Bieber's new dreads (which had a startling resemblance to the Grinch's fingers) upon their debut via his Instagram earlier on Sunday, people were more than ready to call him out for appropriating black culture. 
"Does he not realize?" "Have we not been clear?" "What makes him think this is OK?"
Read more: Miley Cyrus' Dreads Bring Appropriation Moment to 2015 MTV VMAs Red Carpet
Since he is not an artist who regularly contributes to our current discourse on race, or a black man himself, he is simply borrowing from a culture that is not his own, without considering its cultural implications.
As the Root wrote in 2013, "A white person who makes the 'personal choice' to 'go Rasta' might also be communicating a perception that they have 'new license to engage and be down without checking their privilege.'"
Bieber's privilege is never so glaring as when you compare the reaction to his dreadlocks and when Zendaya famously wore dreads on the 2015 Academy Awards red carpet — a comparison that wasn't lost on Twitter.
What's especially troubling is the lack of lesson learned from the outcry over several other white, young starlets who attempted a similar style. In 2015, Kylie Jenner wore dreads in a spread for Teen Vogue.
Soon thereafter, actress Amandla Stenberg posted a message on Instagram in response, saying, "when u appropriate black features and culture but fail to use ur position of power to help black Americans by directing attention towards ur wigs instead of police brutality or racism #whitegirlsdoitbetter."
In August 2015, Miley Cyrus wore blonde dreadlocks to the MTV Video Music Awards, which had people totally baffled as well. 
Let this be yet another lesson on how not to wear your hair if you're a white celebrity. May we never have to write about this again.