John Oliver Explains the Tortuous Way in Which Congress Members Raise Money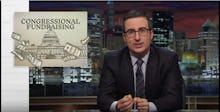 After taking a week off the air and enlightening us with an Easter Egg conspiracy theory, John Oliver and Last Week Tonight returned to HBO last night with aplomb, setting his sights on congressional fundraising. As it turns out, raising money in congressional races is time-consuming, coupled with huge monetary gains, with Oliver highlighting that the 2014 election included $1.7 billion in total fundraising. 
"That's a lot of money," Oliver said. "That's more than it costs to buy 230 million tubes of hemorrhoidal cooling gel, and it's somehow even more upsetting."
Moreover, politicians are spending anywhere from a quarter to half of their time just trying to raise money. The time spent can be a dehumanizing process — whether it's the fundraising events themselves or cold calling people for money, as Oliver shows several congressional members languish over the deed. Obviously, this detracts from their time on Capitol Hill. 
"Washington is like Rod Stewart's haircut — party in the front, party in the back, frankly too much party and no business anywhere," he said. 
Part of the reason these members are inclined to fundraise — even if they aren't in a closely contested race — is because their party expects "membership dues." Thus, the host points out that senators and representatives are "hitting up their customer base harder than a Girl Scout with gambling debts." 
To explain the process further, the host welcomed retired Democratic Rep. Steve Israel to talk about his experiences fundraising in congress. The number of times Israel attended a fundraiser was an astonishing 16,000 times in 16 years, according to his estimates. "It is, in my view, a form of torture, and the real victims of this torture have become the American people, because they believe they don't have a voice in this system," Israel said. 
Oddly, the biggest commonality in Israel's fundraising habits was a propensity for including wine in his events, including a cigar and wine night. As a result, the host gifted Israel with bagged wine from his native Long Island and the two took turns swigging chardonnay. Perhaps Oliver is onto something: Alcohol is the only way for congressional members to go through the tortuous fundraising process. 
Check out the full segment from Last Week Tonight below. 
Read more: John Oliver Blasts Donald Trump on His Horrendous Nuclear Weapons Policies