Why the Panama Paper Revelations Matter to Everyone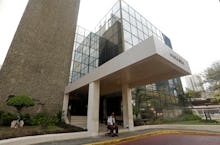 Arnulfo Franco/AP
By now, chances are you've heard about the "Panama Papers" leak. 
But ICYMI, on Sunday the International Consortium of Investigative Journalists published 11.5 million files from a Panama-based offshore law firm called Mossack Fonseca.
The files expose dirty methods the world's wealthiest leaders and corporations use to avoid paying taxes on their fortunes. 
The leak hasn't involved United States leaders or corporations. 
But it has included the actions of at least 33 people and companies blacklisted by the U.S. that did business with Hezbollah, North Korea, Iran and Mexican drug lords. 
Twelve current and former world leaders including Russian President Vladimir Putin and late Libyan dictator Muammar Gaddafi were hiding millions to billions of dollars each.
The point? The Panama Papers highlight how the rich game the system to avoid paying taxes. And how hypocritical the world's leaders — who are supposed to be role models — really are. 
While everyone else gets screwed on empty promises to end income inequality.
Let's get tangible. 
Here are two of many revelations the Panama Papers threw into the spotlight. 
1. A Uganda company wanted to sell an oil field, but didn't want to pay $400 million in taxes. So Mossack Fonseca changed the company's address to another tax haven.
One in three Ugandan people live on less than $1.25 a day.
So that $400 million is more than the government's annual health budget.
2. Iceland Prime Minister Sigmundur Davíð Gunnlaugsson used an offshore company to hide millions of dollars in investments in his own country's banks. 
Meanwhile, fighting income inequality and big bank corruption were two of Gunnlaugsson's main campaign platforms.
Gunnlaugsson promised to play hardball with the banks in wake of the global financial crisis.
Instead, he made hidden investments with those banks while his constituents protest the wealth gap.