Kesha Claims She Received an Offer Granting Her "Freedom" if She Lied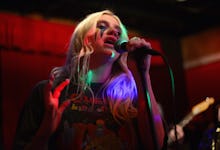 Kesha's case against producer Dr. Luke has been a dark and demoralizing affair to watch, even for those on the outside. For those on the inside, it's likely even worse.
Read more: Dr. Luke Denies Claim He's Being Dropped From Sony
On Sunday, Kesha offered her fans a behind-the-scenes glimpse of her struggle to break her contract with Dr. Luke and exposed the physical, emotional and sexual abuses he allegedly put her through. In an Instagram post, she explained some of the tactics her opposition has used to try to silence her. Allegedly, one of the parties in the case offered her the freedom she sought — if she were to apologize publicly and take back her rape allegations.
"I got offered my freedom if I were to lie," Kesha wrote. "I would have to apologize publicly and say that I never got raped. This is what happens behind closed doors."
It's not clear from the message just which party in this contractual tangle made such an offer to Kesha. A source told Rolling Stone that this conversation took place between Kesha and Gottwald's legal teams "a couple months ago," though it was not clear whether this was a formal settlement offer or simply an idea proposed to Kesha's team.
Dr. Luke's camp also offered a statement responding to Kesha's Instagram claims, via Rolling Stone:
The Court repeatedly stated Kesha is already free to record without Dr. Luke, and that she had not presented any facts supporting her claims. That's because all the evidence — including Kesha's own videotaped, sworn testimony — show her allegations are false. The only thing Kesha is not free to do is to continue to lie about Dr. Luke through publicity stunts and outrageous smears, ignoring the fact that by her own free will she went to work and entered into new contracts with Dr. Luke years after this 'incident' supposedly happened. Her goal all along has been solely personal enrichment by seeking to break contracts that brought her success and millions so she can enter into more lucrative ones. We look forward to our day in court holding Kesha accountable for her lies.
Both parties seem to be alluding to a 2011 deposition video in which Kesha says that Dr. Luke "never made any sexual advances at me." Dr. Luke's camp seems to be pointing to that as the only facts Kesha has offered in this battle. For Kesha, the video is just one of the lies she's sick of telling.
"I will not take back the truth," Kesha wrote on Instagram. "I would rather let the truth ruin my career than lie for a monster ever again."