Mississippi Couple Evicted From RV Park After Owner Discovers They're Interracial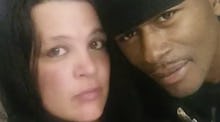 Stanley Hoskins, a United States Army sergeant, his wife Erica Flores Dunahoo and their two children were apparently evicted from a Mississippi RV park after the owner discovered Hoskins was a black man. Dunahoo, his wife, had already introduced herself and paid first month's rent to Gene Baker before he called the couple, telling the Clarion-Ledger neighbors complained of the new family.
"He said, 'hey, you didn't tell me you was married to no black man'" Dunahoo, who is hispanic and Native American, told the publication. "I said, 'Well Mr. Baker, I didn't think it was important, or a problem,' he said, 'Oh, it's a big problem ... with the members of my church, the community, my mother-in-law, they can't have that, they won't have that white and black shacking stuff." 
After failing to reason with the RV park owner in a series of phone calls, Dunahoo filed a report with the NAACP and was forced to relocate her family to another home. "To hate someone or discriminate against someone for the color of their skin, I prayed and prayed for him, because he's an older man, but some people just won't change... they won't change." She told Clarion-Ledger. 
"You don't talk like you wouldn't be with no black man," Dunahoo said Baker told her. "If you would had come across like you were with a black man, we wouldn't have this problem right now," Baker told Dunahoo during their phone conversation, she told the publication. 
The family was forced to relocate to another RV park, where they are currently spending more money for rent than they would have at their first location. As the NAACP investigates, Baker told the Clarion-Ledger renting to another interracial couple won't be an issue any longer: "I'm closing it down, and that solves the problem."
"Racial discrimination should be a thing of the past in Mississippi, considering our long history," president of the Mississippi NAACP Derrick Johnson told the publication. 
Hoskins is a 37-year-old National Guardsmen who has served the country for at least 13 years.
Read more: These 4 Historical Interracial Couples Defied Taboos and Broke the Law — for Love
h/t: the Clarion-Ledger