Not Everyone Is Thrilled About the Tesla Model 3's Design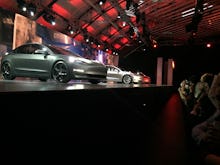 Tesla started taking orders for its newest electric car on Thursday — and by Saturday evening, it had already amassed 276,000 pre-orders, according to CEO Elon Musk. But not everyone is thrilled with the Model 3's design.
Car buyers, in general, saw the car's design favorably. But some people disagreed, airing their gripes on social media.
"I had faith in Tesla to deliver a car that wasn't a horrid eco-box, and they got the exterior right, but the interior looks like a Prius and I'm not real happy about it," said Reddit user jpegjpg.
The quip refers to the sparse layout of the Model 3, which doesn't feature a traditional instrument panel behind the wheel. Instead, drivers will have to refer to a 15-inch screen located on the car's center console.
In a conversation on Reddit with CNET editor Tim Stevens, some Tesla enthusiasts expressed further disappointment with the setup. 
Some redditors surmised that the missing gauges — odometer, speedometer and energy consumption — are due, in part, to Tesla's push to automate all of its vehicles. In 2015, Musk predicted cars would be fully autonomous in two years' time. If the Model 3 can drive itself by the time it makes its way to customers, there's very little use for an instrument panel.  
More about the missing instrument panel may be explained in the second portion of the Tesla Model 3 unveiling, according to Musk. 
The next part of the Model 3 reveal is expected to come nearer to production time, which could mean late 2016 or sometime in 2017.