Panama Papers Data Leak: These Are the 11 Biggest Politicians Named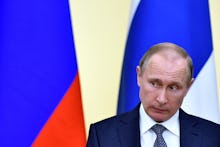 This week, German newspaper Süddeutsche Zeitung and the International Consortium of Investigative Journalists joined forces to leak 11.5 million documents from Panama law firm Mossack Fonseca. Known as the Panama Papers, the 2.6 terabytes of data reveal an estimated 140 offshore accounts belonging to current and former world leaders. 
Russian president Vladimir Putin was one of the most prominent politicians exposed by the breach, having "secretly shuffled as much as $2 billion through banks and shadow companies," according to the Center for Public Integrity.
Read more: Massive Data Leak Ties World Leaders, FIFA Officials, to Shady Offshore Accounts
After over 100 other media partners worked to comb through 40 years' worth of data, more big names have been rising to the top of the list. Here's what we know so far:
1. Icelandic Prime Minister Sigmundur Davíð Gunnlaugsson
On Monday, the Guardian reported that the Panama Papers suggest Iceland prime minister Sigmundur Davíð Gunnlaugsson and his wife were involved in helping clients secret their money to offshore accounts when he co-owned a company called Wintris Inc. while holding office.
This week Gunnlaugsson is slated to address the allegations in front of parliament in a snap election. Former prime minister Jóhanna Sigurðardóttir has said Gunnlaugsson may have to resign.
2. Argentinian President Mauricio Macri 
Before he was president, Macri was mayor of the Argentinian capital, Buenos Aires. At the same time, Macri was vice president and director of a Bahama-based company called Fleg Trading — something he failed to mention in asset declarations between 2007 and 2008. 
Macri's administration maintains the president was never an active stakeholder in Fleg Trading, but the Panama Papers revealed Macri was tied to offshore accounts with the business. 
3. Russian President Vladimir Putin
After the Panama Papers went after Putin for using Mossack Foseca to secretly shuffle around $2 million, spokesman Dmitry Peskov told a Russian news agency he suspects the president is the main target of the data breach — perfect timing given the country's upcoming parliamentary elections, according to USA Today.
Though the documents didn't explicitly name the Russian president, offshore accounts linked to close friends and relatives has brought Putin under fire.
4. Ukrainian President Petro Poroshenko
After assuming the presidency in 2014 on a platform promising to "prevent the inappropriate influence of private interests on the state," according to the Sydney Morning Herald, Poroshenko was named in the Panama Papers as the sole shareholder of an offshore trust.
5. The late father of British Prime Minister David Cameron
According to the Independent, Ian Cameron, who died in 2010, began using Mossack Fonseca in 2006 to protect his investment fund, Blairmore Holdings Inc.
The outlet reported that in that same year, a prospectus named Cameron and said that the fund "should be managed and conducted so that it does not become resident in the United Kingdom for UK taxation purposes."
6. Saudi Arabian King Salman bin Abdulaziz
Sunday's leaked documents revealed the Saudi King took out a total of $34 million in mortgages on luxury homes using a British Virgin Island company. The papers don't specify his exact role in the offshore dealings, but allude to bin Abdulaziz and his assets.
7. The Spanish Royal Family
Infanta Pilar de Borbon, sister of former King Juan Carlos I and aunt to current King Felipe, used Mossack Fonseca's services when she served as president and director of a company called Financiera Front SA in 1974, during her brother's rise to power.
8. The brother-in-law of Chinese President Xi Jinping
The president's brother-in-law has been linked to offshore accounts along with the family members of at least eight other current or former members in the communist government, including a politician's granddaughter who purchased an offshore company for a single dollar. 
9. Cousins of Syrian President Bashar Assad
According to the ICIJ, brothers Rami and Hafez Makhlouf "made a fortune exploiting family ties" to their President Assad and unfroze $4 million in Swiss accounts.
10. Former Iraqi Vice President and Prime Minister Ayad Allawi
According to Forbes, Allawi's media office confirmed what the Panama Papers alleged of the former Iraqi VP and prime minister: that Allawi is the "sole director and shareholder" of three different offshore companies, including a property priced at $1.5 million. His spokespeople said the residential property was purchased in light of an assassination attempt on Allawi. 
11. United Arab Emirates President Khalifa bin Zayed Al Nahyan
President Khalifa may be one of the biggest offenders when it comes to the sheer quantity of offshore accounts, having used the Panama-based law firm to cover up at least 30 businesses in the British Virgin Islands and $1.7 billion in UK real estate profit.
TeleSur TV wrote on Monday that these findings are particularly concerning due to the UAE's financial and military alliances with the United States. 
This content was originally published by teleSUR at the following address:
Other noteworthy names include former prime ministers of Qatar, Sudan, Jordan and Ukraine. Gabriel Zucman, an economist at UC Berkley, told the ICIJ, "These findings show how deeply ingrained harmful practices and criminality are in the offshore world."
Check out the ICIJ's full list of "power players" here.
And just in case you need a reminder of why any of this really matters:
This content was originally published by teleSUR at the following address: