Gay People in Saudi Arabia May Face the Death Penalty for Coming Out Online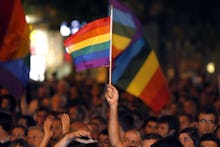 Saudi Arabia killed more of its people in 2015 than any other year in the last two decades, and now the country is reportedly considering adding coming out as gay online as one of its "crimes" punishable by execution, Vocativ reported.
The Arabic, Saudi Arabian daily newspaper Okaz reported the country's Bureau of Investigation and Public Prosecution is debating the severity of such an offense like coming out online, as the kingdom reported a sharp increase in homosexuality-related crimes in Jeddah, a commercial center and port city, according to Vocativ.
Some gay-related crimes are not punishable by death in Saudi Arabia, like men allegedly acting like women, but instead receive alternative severe punishments, such as public floggings. However, Vocativ found there are 16 offenses — not all stemming from sexuality — that can result in the death penalty in Saudi Arabia, including consensual gay sex with an adult, adultery, consumption of intoxicants and sorcery and witchcraft, among others. 
Saudi Arabia already charges (and executes) those accused of gay-related crimes — even raising a rainbow flag in front of one's home is worth an arrest, an offense that allegedly happened recently, Vocativ noted.
In Jeddah, the city where officials noted a surge in gay-related offenses as well as a rise in social media use, at least 35 people have already been charged with "sexual perversions," including homosexuality, and another 50 men have been arrested for allegedly dressing as women in the last six months, Vocativ reported, citing Okaz.
In a 2014 report on global human rights practices, U.S. Secretary of State John Kerry noted Saudi Arabia is one of the countries stifling the "development of civil society." However, "in the face of all this, the human aspiration for political liberty and honest, nonabusive governance remained strong," Kerry wrote. 
Read more: Saudi Arabia Is a Place Where Women Can't Drive — These Women Just Landed a Plane There