When Will 'The Walking Dead' Season 7 Premiere on AMC? Here's What We Know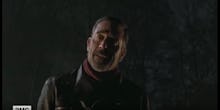 Fans are irate with The Walking Dead following the season six finale, and it's not hard to see why. After teasing the introduction and adaptation of the comic book's most menacing villain, Negan (Jeffrey Dean Morgan), for the greater part of the season, the show ends in a frustrating cliffhanger. 
Yes, he whips out his beloved barbed wire-covered baseball bat, Lucille, and he beats someone over the head with it. However, a POV shot from the victim, coupled with screams of terror from members of Rick (Andrew Lincoln)'s group, leave the identity of the character at the wrong end of Negan's bat a mystery. Now, eager fans will have to wait months to find out who's at the receiving end when The Walking Dead returns for a seventh season — but when will that be? 
Read more: 'The Walking Dead' Season 6 Finale Recap: Negan Finally Makes His Deadly Introduction
If previous seasons are any indication, The Walking Dead should return to AMC in October. It's consistently premiered in the middle of the month, coupled with a midseason finale to wrap up the calendar year. There's no indication that will change this year — but we can likely expect an announcement from AMC and the showrunners at some point over the summer. 
In the meantime, theories will surely continue to swirl over who was at the end of Negan's brutal beating. However, that's going to kickstart the next phase of The Walking Dead's narrative, according to the series' executive producer Scott M. Gimple. 
"The end of the story is what people saw," Gimple said on Talking Dead — AMC's Walking Dead after-show — according to Entertainment Weekly. "And when we reveal who was on the receiving end there, that's going to be the start of another story. The kickback effects from that, what it makes everyone into, how people react, how the world changes for everyone, that's the next part of the story." 
Regardless of whose blood is on the end of the bat, the showrunners will have to deal with frustrated fans in the months to come — many of whom regard the show's latest cliffhanger as a slight to the passionate fanbase.