What Is Mossack Fonseca? All You Need to Know About the "Panama Papers" Firm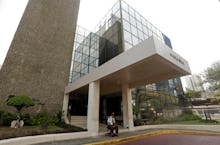 In the center the data leak scandal that's currently rocking the world, titled the "Panama Papers," is the company Mossack Fonseca. Over 11.5 million documents from the law firm, which is located in Panama, were leaked and given to the International Consortium of Investigative Journalists and members of the media to expose high-profile clients, like Vladimir Putin's close friends and FIFA, who the data links to using the company's services.
Jurgen Mossack from Germany and Ramón Fonseca from Panama established Mossack Fonseca in 1977, according to Vice. Mossack Fonseca provides comprehensive "legal and trust services," according to its website. The website also stated the law firm works in assisting "clients in physically relocating to Panama and supporting them with regard to all of the steps required, from handling immigration matters and buying or renting property to establishing their business in Panama."
Basically, it's been linked to creating shell companies for a yearly fee, according to the Guardian. Most of their known clients hail from China and Russia. Over 300,000 companies are associated with Mossack Fonseca, with about 100,000 being in the British Virgin Islands.
Read more: Mossack Fonseca Data Leak Ties World Leaders, FIFA Officials to Shady Offshore Accounts
In 2014 Mossack Fonseca reportedly had offices in 44 countries across the globe — such as in Switzerland, Brazil and the British Virgin Islands — Vice reported. Nine of those were in China, according to a 2012 report from the Economist. Three were in the United States — in Florida, Wyoming and Nevada — Vice reported. For the record, many of those branches are located in "tax haven" countries.
The "tight-lipped" Mossack Fonseca has been considered an industry leader, according to the 2012 Economist story. According to the Guardian, the firm has many affiliates that run under the Mossack Fonseca name.
Mossack Fonseca might soon be facing pressure from governments the world over, including the U.K., Australia and New Zealand — the latter two are confirmed to be currently investigating the firm's clients. The U.K. has requested media organizations to share the Panamanian firm's 11.5-million-document treasure trove, according to the Guardian, which itself has received such a request.