The Illusion Virtual Reality Sex Suit Makes Porn Look as Boring as Sketching Boobs on Bark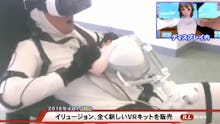 The classic Mom-forgets-to-knock-and-catches-you-under-the-sheets scenario is about to get a modern twist. In the future, tech-savvy teenage onanists will be caught strapped into a virtual reality sex suit, cooing at a 3-D porn avatar while groping fake boobs attached to a pumping Fleshlight. Penis-having masturbators won't ever need to use their imaginations again.
Illusion VR is a body suit equipped with haptic feedback, a Tenga masturbation device and even fake boobs. The device costs about $400, according to Inside Reality, and is already sold out. 
The virtual reality sex suit is designed to work with Illusion's Oculus game Sexy Beach, according to Inside Reality. The game appears to let you choose your own fuck adventure, letting users customize the female avatar to their liking. 
The contraption could be the "future of masturbation," Tenga CEO Tsuneki Sato told Motherboard.
Masturbation and virtual reality go hand-in-hand
VRtube is an online studio dedicated to VR porn. On the site, horny Oculus Rift owners can watch pre-recorded pornos, or even interact with performers in real-time, according to Inverse. 
A past Indiegogo project asked for contributions for a VR helmet and stroking cup, a customizable virtual-girlfriend trifecta. Vice tested tested it out, reporting that "in unison, both me and the computer girl came at once." The project didn't get full funding — but it points to a growing interest in immersive virtual boning.
The Illusion VR suit takes all of these existing technologies — customizable avatars, porn, virtual reality and teledildonics — and smashes them into the ultimate fap machine.