Muslim Student in Texas Says a Teacher Called Him a "Terrorist"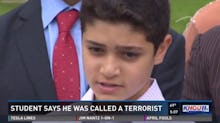 The family of 12-year-old Sugar Land, Texas, student Waleed Abushaaban is asking for a teacher to be fired for allegedly calling their son a "terrorist."
Local news station KHOU reported Abushaaban, a Muslim American seventh-grader at First Colony Middle School, said the unnamed teacher dropped the T-word on Thursday while his class was watching Bend It Like Beckham, a 2002 movie about a Sikh girl from London who plays soccer despite her family's objections.
"We're in the class watching a movie," Abushaaban told KHOU. "And I was just laughing at the movie and the teacher said, 'I wouldn't be laughing if I was you.' And I said, 'Why?' She said, 'Because we all think you're a terrorist.'"
"[Other students] were like, 'Oh, I see a bomb!' and they started all laughing and making jokes," he continued. "I was upset and I felt like I was put in the corner and like everybody was just looking at me."
In a statement, the school said the staff member in question was a "probationary teacher" who has since been placed on administrative leave.
KHOU reported the statement continued:
While the teacher reports her statements were made in the context of trying to make a point about negative stereotypes, district officials do not believe that the teacher exercised the appropriate sensitivity expected of the district's educators, and do not believe that the statements were made in a manner that is in keeping with the district's core beliefs and commitments.
In 2015 another Texas public school drew similar attention when officials at Irving's MacArthur High School summoned police to arrest Ahmed Mohamed, a 14-year-old student who had brought a homemade clock to school. Mohamed was arrested and sent to jail "for his safety and for the safety of the officers," reported the Dallas Morning News. It was a reaction President Barack Obama seemingly deemed unjust enough to later invite Mohamed to the White House.
Watch the video below:
h/t BuzzFeed News