Police Reportedly "Slammed" Missing Boy's Face Into a Car After He Was Found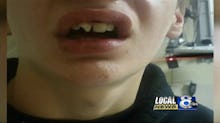 After Amy Olzak notified the Idaho Falls Police Department that her 12-year-old son, who'd been reported missing earlier that day, was found, police officers came to the house and allegedly expressed their concern in an excessive manner. 
According to Olzak, they smashed her son's face into a car. 
"He walked over to my son and then he put my son's hand behind his back and like lifted him up in the air and slammed his face into the trunk of a car," Olzak told ABC Local News 8. The officers took the boy away in handcuffs. 
The officer put "his head into the back of the trunk hard enough that it chipped his tooth," Courtney Beck, the owner of the car, also told the local news station. 
Olzak has since initiated legal action against the IFPD and the incident is being investigated by the department's internal affairs.
But IFPD Capt. Royce Clements told ABC Local News 8 the officer was not violating any laws in detaining the 12-year-old, as Idaho allows police to arrest runaways. 
"In this particular case it was determined that we did send this to internal affairs and that is ongoing," Clements said. 
"We know we can't effectively do this job without the trust of the public. When the public comes in and they're not happy with something that we're doing we take a hard look at it and see what we can do."
Watch the news report, including a reenactment video, here.
Read more: Microsoft's Racist Chatbot Returned to Taunt the Police in a Weed-Fueled Rampage