Halsey Deactivates Twitter Account After Trolls Attack Her for Supporting Kehlani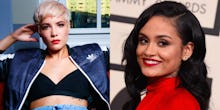 Pop singer Halsey reportedly deactivated her Twitter account after trolls targeted her for defending embattled fellow entertainer Kehlani, who attempted suicide after an incident between her and two of the men in her life went viral. The 21-year-old Halsey threw her support behind rising singer-songwriter Kehlani after detractors attacked her for supposedly cheating on NBA player Kyrie Irving with her ex-boyfriend and Drake's music prodigy, PartyNextDoor.
But after those attacking Kehlani with slut-shaming remarks and accusations of cheating directed their attention to those supporting her, Halsey apparently had enough. Some even addressed Halsey opening up about her mental health, stating it was unfair for her to be received so positively while Kehlani was attacked. 
"Come on now. I support Kehlani 111110% but Twitter obsessively tells me that I should have gone thru [and] killed myself," she reportedly tweeted Saturday, just before deleting her account. "Why are you turning something as serious as mental health into a competition? Low-key misogynistic."
This phenomenon of trolls targeting people with massive online followings didn't start with Kehlani or Halsey, and certainly isn't anything new. But the public conversation that follows leaves out the very human aspects behind the scandalous, viral controversies erupting online: The result can be devastating, and even deadly.
Some are suggesting Halsey might have been tempted to delete at least part of her presence on social media after a photo she posted of another artist's work without credit on Instagram turned her comments section into an explosion of ugliness. Certainly, the internet is a cesspool of nonattribution, and there's no excuse to steal someone's art, but to completely decimate someone's public profile for possibly making a mistake is no better.
Fortunately, there are good people to be found online, and they spoke up against the continued outrageous backlash following Kehlani's hospitalization, as well as Halsey's support for the rising star.