'Lady Bits' Is a Zine That Wants to Teach Young Girls to Love Their Vaginas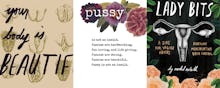 Of all the mysteries of humankind, one would be hard-pressed to think of any as puzzling as the Enduring Mystery of the Vagina. (This is not the name of a Nancy Drew book title, but it probably should be.) No other body part is quite as fraught with mythology, misconception and stigma.
Luckily, a new 36-page, full-color zine seeks to change that.
Reddit user mountain_gal_ recently shared a link to writer and illustrator Rachel Rolseth's Lady Bits, describing it as "so beautiful and informative."
"I would have killed for this as a girl," mountain_gal_ wrote. 
The project, which came out this month, features body-affirming text and illustrations praising the glory of the vagina. Topics covered include menstruation, ovulation, birth control, consent and more.
In an email to Mic, Rolseth said she hoped the zine will inspire women of all ages to love their bodies.
"My intention for Lady Bits was to make something I would have loved to get as a 14 year old girl, but still would have gotten something out of as a 30-year-old woman," she said.
"I think there is a culture of shame and erasure about women speaking about our own bodies, and that there is power in speaking about our bodies frankly and with pride. I think it's really important for girls and women to feel like they can be the authorities of their own bodies, and to cultivate a positive relationship with our bodies."
Rolseth said the general reaction to her zine has been "overwhelmingly positive," with some women purchasing multiple copies (available for $5 on Etsy) to hand out to family members and friends. That's not to say, though, that the response has been without controversy.
The menstruation section of the zine veers into astrological territory, featuring a lunar calendar that declares that "every woman will have her own unique rhythm with the moon and her body." Rolseth said that some people on Reddit took issue with her decision to include this concept, which has been a subject of debate for years, in the zine. (One study in the '80s concluded that there is a "synchronous relationship between menstrual cycle and lunar rhythm," but research on the subject is very limited and often met with skepticism.)
"[It] seems like such a strange bone to pick," Rolseth said. "Nowhere in there do I say that the moon causes or controls menstruation. I don't understand why some people get so belligerent about a woman choosing to cultivate a spiritual connection with the moon."
More often than not, though, Lady Bits' audience has connected with the zine and found that its body-positive message has made it easier to talk about the experience of living with a vagina.
"I've brought stacks of these to parties and bars and parks and handed them out, and suddenly everyone in the room is talking about vaginas and their lives and experiences," Rolseth said. "And that for me is so much bigger than Lady Bits."
She added that "in the end, Lady Bits is about my own experience with my own body, and despite all the pretty flowers, it's punk as fuck."
You can check out more of Lady Bits at Rolseth's website.