Sarah Palin Poses With Dead Hog to Woo Wisconsin Voters for Trump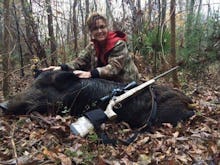 It wasn't quite lipstick on a pig — but it was awfully close. 
Former Alaska Gov. Sarah Palin, a recent Donald Trump booster, posed smiling next to a dead hog in an attempt to woo Wisconsin voters to support the New York billionaire Tuesday in the state's primary. The image was uploaded to her Facebook page Sunday along with a personal plea from Palin.
Read more: Sarah Palin's Latest Anti-Immigrant Comments Continue a Horrible Election Trend
"The continued games of the permanent political class will assure a Hillary victory unless you tell them 'ENOUGH!' and vote for bold, new leadership that puts your interests before party politics," she wrote. "Vote for Donald Trump on Tuesday to make America great again."
The missive also took a none-too-veiled shot at her own political patron John McCain, with whom she ran with as a vice presidential candidate in 2008. Throwing her old running mate under the "Straight Talk Express," Palin called Trump the "first candidate since Reagan who is growing the Commonsense Conservative movement."
Palin has stumped hard for Trump in his uphill battle to win the Badger State primary, delivering a major speech for him Friday in Milwaukee.