Wisconsin Democratic Primary 2016: What to Expect in the Race Between Clinton and Sanders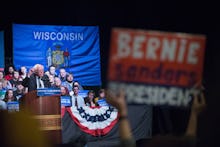 Allies of Hillary Clinton are firmly convinced that the sooner the former secretary of state dispatches Bernie Sanders' progressive insurgency, the better the Democratic Party's prospects of taking down Donald Trump and Ted Cruz, the leading Republican presidential candidates.
Wisconsin voters are in no such hurry.
A little more than one week after he crushed Clinton in Alaska, Washington and Hawaii, Sanders is poised to continue his winning streak in the Badger State, where the Democratic electorate's strong progressive bend favors the democratic socialist from Vermont.
Read more: Bernie Sanders Had a Great Weekend — But the Map Gets Tougher From Here
Sanders has built a modest but durable lead in the polls, edging Clinton 48% to 45% in the RealClearPolitics polling average, and Clinton's camp appears to be steeling itself for a loss.
The former secretary of state has already turned her focus toward her adoptive home state of New York, where primary voters head to the polls on April 19, and her campaign is reassuring supporters that even if Sanders wins in Wisconsin, Clinton's large delegate lead will hold.
As for Sanders, winning Wisconsin by a handful of percentage points won't do much to move the needle. To put a real scare into Clinton, he needs to notch a landslide victory on Tuesday. And — given the state's predominantly white Democratic electorate, its history of labor and progressive activism and its open primary system, which allows those not registered with the Democratic Party to vote in the primary — the conditions for a Sanders landslide are ripe. 
That polls aren't pointing to one underscores the considerable hurdles confronting the senator's candidacy. 
Wisconsin's 86 pledged delegates will be allocated proportionally — further limiting any bounce Sanders would get from a victory there. Polls will close at 9 p.m. Eastern.