Amber Rayne, Adult Film Actress Who Accused James Deen of Sexual Assault, Dies at 31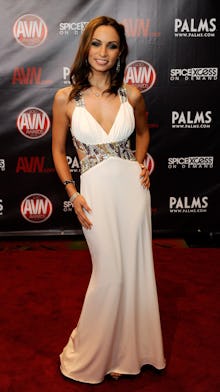 Amber Rayne, an adult film actress who has been in the industry for 10 years, died in her sleep either Saturday night or early Sunday morning, according to AVN. Rayne, 31, was one of 10 women who accused porn actor James Deen of sexual assault in 2015.
Her exact cause of death still needs to be confirmed by the autopsy report, according to AVN.
With a background in professional acting, Rayne had accomplished almost 500 credits in the porn industry, AVN reported. In 2015 she quit the adult film industry to run a horse farm, according to the Cut.
Read more: 3 Months Later, Here's What the Porn Industry Thinks of James Deen
Rayne described her alleged assault by Deen to the Daily Beast, saying it happened a long time ago and they had remained friends since. "I don't want to betray or lose that, but at the same time this did happen, and it happened to other people that I know and love," she told the Daily Beast.
While filming the scene with Deen, Rayne said Deen punched her in the face twice and also started "going crazy on my butt — extreme, brutally fucking it." The result was Rayne bleeding to a point where they had to stop filming, and she had to receive stitches.
At first attributing Deen's behavior to his naive status in the industry, Rayne said the other women who came forward with assault allegations changed her mind. "I can't blame it on immaturity anymore," she told the Daily Beast. "I can't blame it on being new to the industry and being some young kid. No, you know better."
Upon hearing of her death, those in the porn industry mourned. Fellow adult film stars Ryan Driller and Kayden Kross respectively called her a "sweetheart" who "always had a positive attitude."