PlayStation Gave a Gamer With Cerebral Palsy This Specialty Controller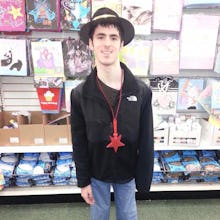 Gamers don't always have the best reputation when it comes to inclusiveness. Now, some of those in charge are trying to flip the script on that narrative.  
Alex Nawabi, a retail marketer for PlayStation, designed a custom made control after a gamer with cerebral palsy emailed the company about difficulties he had using their controller.
Read more: The Bizarre Thing Baffling Amazon Users About This Toy Fighter Jet
Peter Byrne of South Amboy, New Jersey, has been gaming since he was a kid and had no issue with previous PlayStation controllers, but found the manufacturer's latest edition to be troublesome, BuzzFeed reported. 
"I sent an email to PlayStation's customer service two weeks ago, mentioning that I have cerebral palsy and that the controller is very sensitive to my left hand," Byrne told the website. "My hand constantly hits the touch pad, which either pauses my game or interrupts whatever I'm doing."   
Nawabi responded immediately saying he would look into it, and after initially saying that the problem would be impossible to fix, the PlayStation employee mailed Byrne a care package which included a new modified controller and a personal letter.
Byrne outlined the whole story in a Facebook post in March. 
"Mr. Nawabi really cared about my situation and did this on his own time to make my experience better," wrote Byrne. "I honestly can't thank him enough for everything he did for me. Thank you Mr. Nawabi it really means a lot to me!"
In his letter, Nawabi said that the new controller had taken roughly 10 hours and three controllers to build as well as "a few moments of frustration." In a follow-up on Facebook, Nawabi singled out his company for praise, saying that promoting user experience was a team effort.  
"Please keep in mind that the Research and Development team at PlayStation is filled with some absolutely astounding individuals who wake up every day and try to come up with a solution for everyone." he wrote on Facebook. "Without them, we wouldn't even be close to what we are today. If you're not aware, they've recently added more accessibility settings that let you remap buttons to help with a large portion of needs. Their team members are the true MVPs."